CORONAVIRUS
/
Taiwan reports 5,172 new COVID-19 cases, zero deaths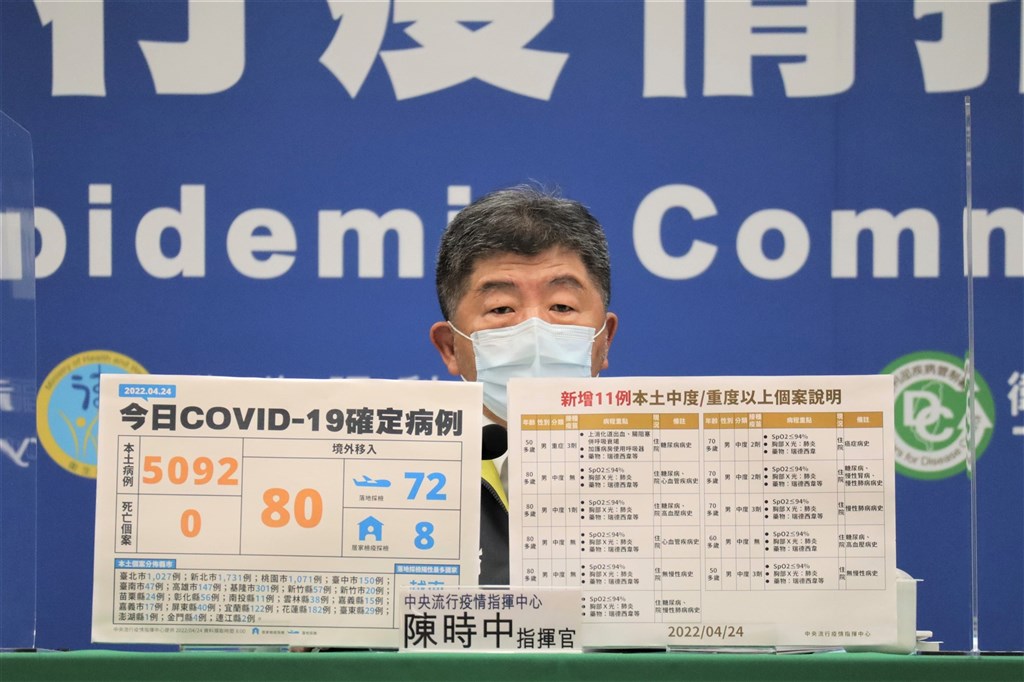 Taipei, April 24 (CNA) Taiwan on Sunday reported 5,172 new COVID-19 cases, as well as 10 new moderate infections and one severe infection, and zero deaths from the disease, according to the Central Epidemic Command Center (CECC).
The new daily cases, which surpassed 5,000 for the first time, consisted of 5,092 domestically transmitted infections and 80 cases that were contracted abroad.
The CECC also reported that 10 people, aged in their 50s to their 80s, had developed moderate infections, while one patient in his 50s had developed a severe infection.
Four of the 11 new moderate-to-severe patients are unvaccinated, while the other seven had received between one and three doses of a COVID-19 vaccine.
Of the 26,374 domestic cases recorded nationwide from Jan. 1 to April 23, 88 have been classified as moderate infections and eight as severe, accounting for 0.33 percent and 0.03 percent of the total, respectively.
All other cases have displayed either mild symptoms or have been asymptomatic, according to the CECC.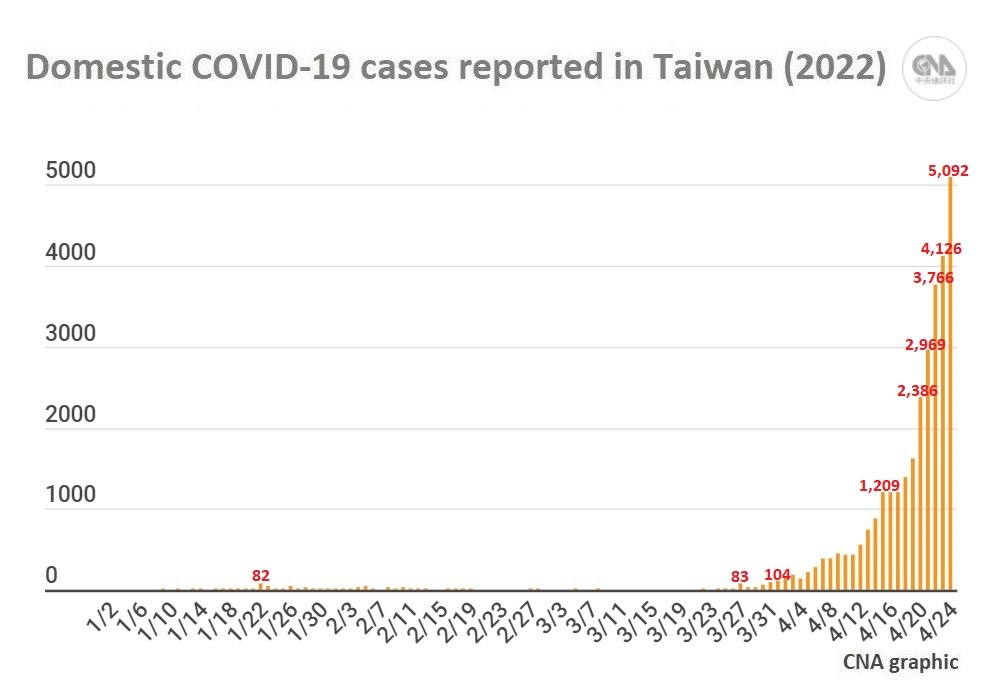 New Taipei reported the highest number of new domestic cases with 1,731, followed by Taoyuan with 1,071, Taipei with 1,027 and Keelung with 301.
Hualien had 182 cases, Taichung 150, Kaohsiung 147, Yilan 122, Hsinchu County 57, Changhua 56, Tainan 47, Pingtung 40, Yunlin 38, Taitung 29, Miaoli 24, and Hsinchu City 20.
Chiayi City recorded 17 cases, Chiayi County 15, Nantou 11, Kinmen four, Lienchiang County two, and Penghu one, the CECC said.
Meanwhile, of the 80 new imported cases, 72 were travelers who tested positive on arrival in Taiwan, according to the CECC.
To date, Taiwan has confirmed 56,468 COVID-19 cases since the pandemic began in early 2020, including 46,065 domestically transmitted infections.
With no new deaths reported Sunday, the number of confirmed COVID-19 fatalities in the country remained at 856.
Related News
April 24: Rationing system for COVID-19 rapid tests to launch in May
April 24: Taipei to drop preventive quarantine for epidemic prevention workers
April 24: Taiwan producer to cut prices for COVID rapid test kits
April 24: Premier backs '3+4' proposal to shorten COVID-19 home isolation
April 23: List of qualifying conditions for COVID-19 drugs expanded
April 23: CECC may cut COVID-19 quarantine to 7 days: health minister
April 22: Inpatient, care home resident visits restricted due to COVID surge
April 21: CECC adjusts triaging criteria for COVID-19 patients
April 21: Rapid testing to replace preventive quarantine: health minister
April 15: Taiwan mandates 3 COVID shots for high-risk groups, venues
Recent cases
April 23: Taiwan reports 4,204 new COVID-19 cases, including 4,126 domestic ones
April 22: Taiwan reports 3,859 new COVID-19 cases, including 3,766 domestic
April 21: Taiwan reports 3,058 new COVID-19 cases, including 2,969 domestic
April 20: Taiwan reports 2,481 new COVID-19 cases, including 2,386 domestic
April 19: Taiwan reports 1,727 new COVID-19 cases and two deaths
View All