CORONAVIRUS
/
Foreign interference not a factor in Pfizer vaccine talks: minister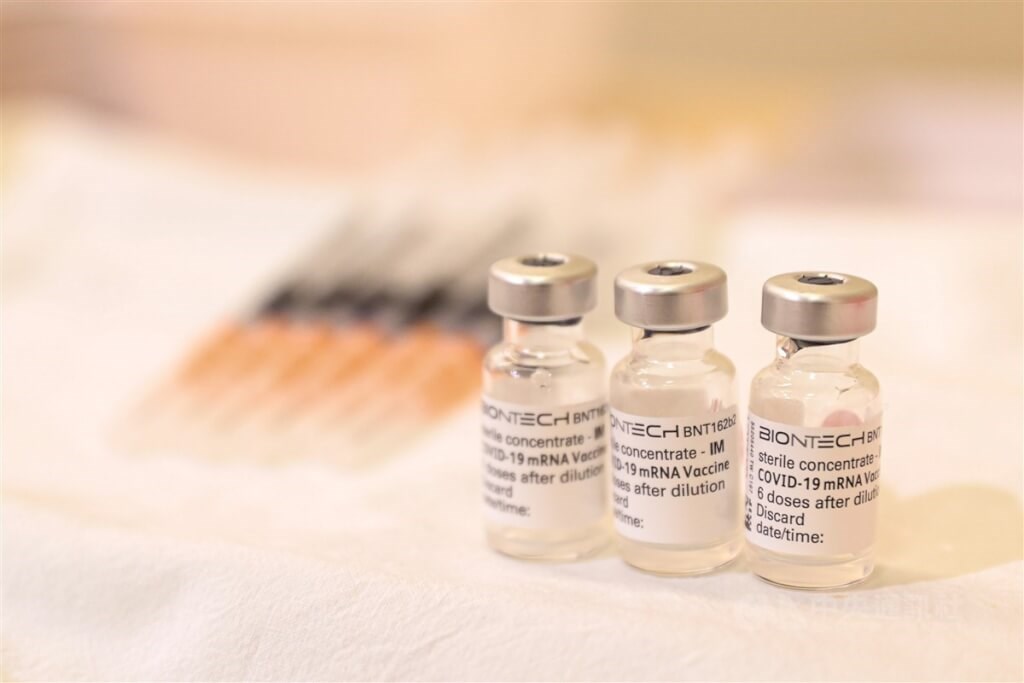 Update: Taiwan inks new Pfizer-BioNTech vaccine deal, approves use for children (April 28)
Taipei, April 18 (CNA) Taiwan's efforts to purchase the Pfizer-BioNTech children's COVID-19 vaccine have not been held up by foreign interference but rather by each party's efforts to protect their interests, Health Minister Chen Shih-chung (陳時中) said Monday.
"I don't have any direct proof, but there hasn't been much interference from outside sources in the negotiations," Chen said at a Central Epidemic Command Center (CECC) press briefing about the negotiations, which have dragged on for more than two months.
The statement contrasted with last year, when Chen blamed outside pressure -- apparently referring to China -- for the last-minute collapse of a deal to purchase 5 million doses of the Pfizer-BioNTech vaccine in late 2020.
Chen has come under pressure to procure the Pfizer vaccine for children from Taiwanese parents, who are worried about their unvaccinated children amid a spike in Omicron cases.
It is the only vaccine approved by the United States Food and Drug Administration for children ages 5 to 11.
But with Taiwan unable to buy the Pfizer product to date, Taiwan's Food and Drug Administration (FDA) decided on Sunday to authorize use of the Moderna COVID-19 vaccine in children aged 6-11.
The health chief had said last Wednesday, just as Taiwan's single-day COVID-19 case numbers started to shoot up, that negotiations for the Pfizer vaccine were in their "final stages," but none of that optimism was in evidence on Monday.
The complexity of the current negotiations, he said, stemmed from the fact that the children's vaccine is produced by Pfizer rather than BNT.
While BNT has named Shanghai Fosun Pharmaceutical Group as its licensed distributor in the Greater China region, Pfizer has no such deal with Fosun, though it excludes the region from its sales territory, Chen said.
For that reason, it has been necessary to "pull Pfizer into" the negotiations -- a situation that has made the contractual relations quite complex, Chen said.
Chen's comments came amid criticism of the Taiwan FDA decision, with opponents arguing that the Moderna vaccine was authorized for children before Pfizer's, which is also under review, largely because Taiwan has an existing supply of Moderna.
Lin Shih-pi (林氏璧), a former infectious disease specialist at National Taiwan University Hospital, said the Moderna vaccine for children contains five times more mRNA than Pfizer's -- 50 micrograms per dose, compared to 10 mcg.
He urged that shots be administered at least 12 weeks apart (rather than 28 days) to reduce the chance of adverse reactions.
The government, for its part, argued that the criticisms were unfounded, noting that the European Union, United Kingdom, Australia and Canada had all authorized the Moderna vaccine for similar age groups.
At the press briefing, Chen was asked whether it would be possible to simply purchase the Pfizer-BioNTech vaccine in 30 mcg adult doses and divide them into 10 mcg doses for children, as has reportedly been done in Hong Kong.
He replied it would be "very difficult" for the FDA to approve using product in a way that went against the manufacturer's instructions, given that Pfizer has released a specific children's vaccine with a different buffer from the adult product.
By contrast, the 100 mcg adult dose of the Moderna vaccine is divided into 50 mcg booster doses, and would likely be divided in the same way for children's shots, but it does not have a separate product on the market for children.
As of Sunday, 84.13 percent of those eligible in Taiwan had received one shot of a COVID-19 vaccine, while 79.35 percent had received two shots and 55.13 percent had received three shots, according to CECC data.
With the FDA's authorization, Taiwan's Advisory Committee on Immunization Practices (ACIP) is scheduled to meet on Wednesday to discuss whether to recommend the Moderna vaccine for children in the 6-11 age group.
The committee previously decided on March 24 to hold off on vaccinating children under 12.
View All