CORONAVIRUS
/
Taiwan still plans to open up gradually, despite case spike: Premier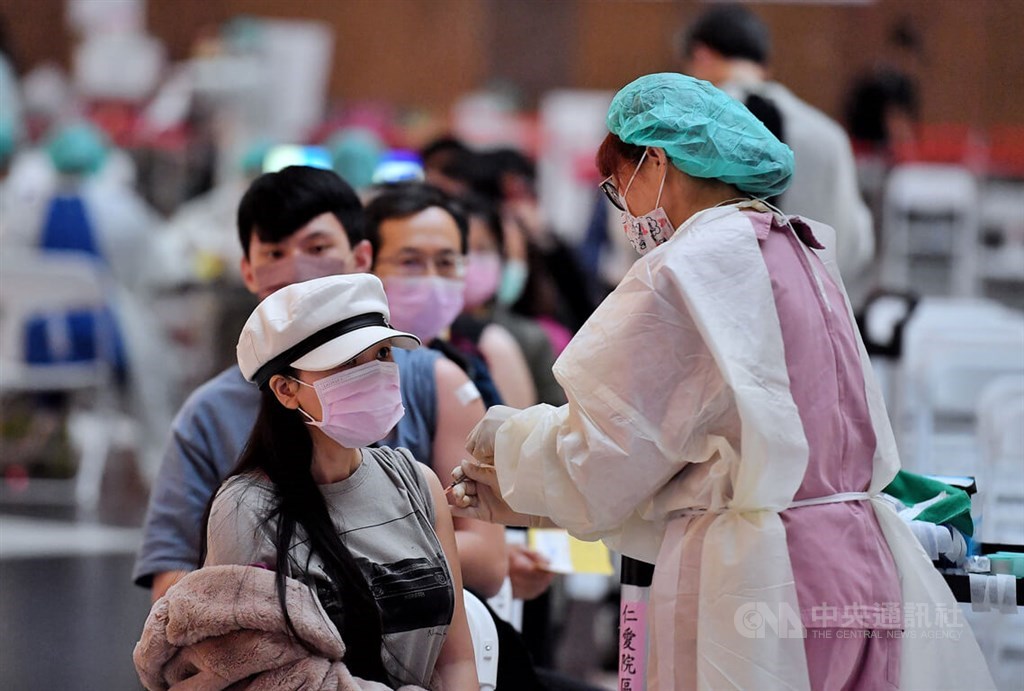 Taipei, April 1 (CNA) Despite a recent spike in locally transmitted COVID-19 cases, Taiwan still intends to open up the country gradually and focus on balancing disease prevention and economic development, Premier Su Tseng-chang (蘇貞昌) said Friday.
Taiwan is lifting COVID-19 related restrictions in phases after dealing with the disease for more than two years, Su said during a legislative session Friday, in response to a question from lawmaker Lee Guei-min (李貴敏) of the opposition Kuomintang.
Taiwan now has enough COVID-19 vaccines in inventory and sufficient medical resources to leave the government willing to take some risks, Su said, but it will continue to closely monitor the disease's spread and make required adjustments.
Emergency measures, such as imposing a lockdown, will only be implemented if there is an unexpected surge of cases, the premier said.
After Su made his comments, the Central Epidemic Command Center (CECC) reported 104 new locally transmitted COVID-19 cases at a press briefing Friday afternoon, the highest single day total in 2022 so far. That came after 87 domestic cases were reported Thursday.
The 104 new domestic cases were spread across nine counties and cities in Taiwan, and Health Minister Chen Shih-chung (陳時中) said people should remain cautious.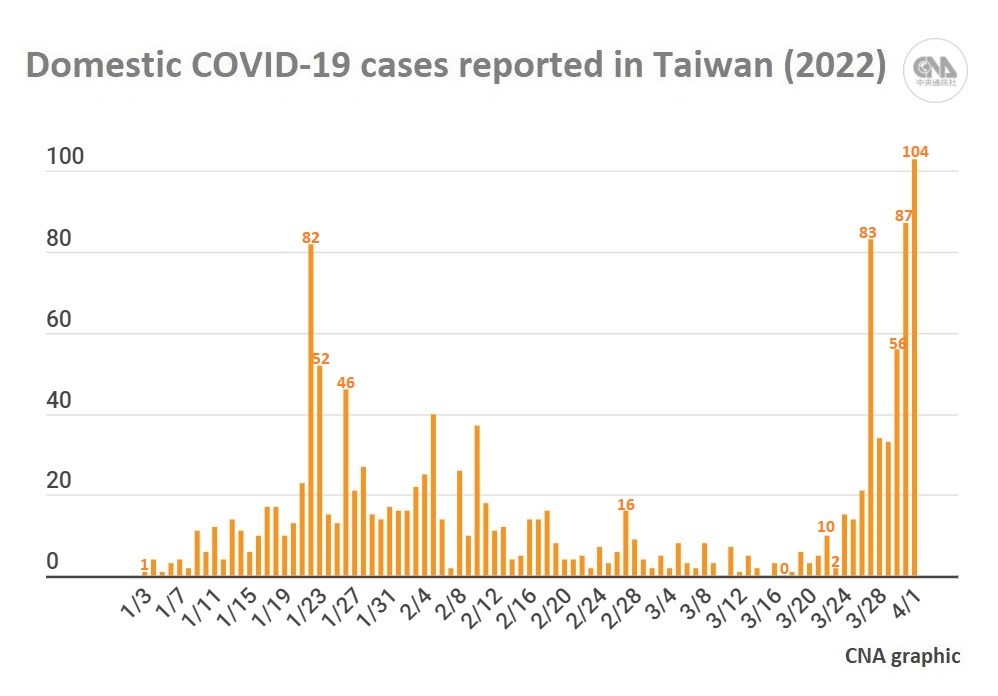 But people should not be afraid, he said, because the current outbreak featuring the Omicron variant of the virus is not as serious as the Alpha variant outbreak in May 2021, which sent Taiwan into a soft lockdown.
Centers for Disease Control (CDC) Deputy Director-General Lo Yi-chun (羅一鈞) said at Friday's briefing that of the 1,266 domestically transmitted COVID-19 cases recorded between Jan. 1 and March 31, only three of the people infected have developed serious complications, including one person who died.
The remaining 99.76 percent of those infected presented mild or no symptoms, Lo said.
While the number of cases linked to a COVID-19 cluster in Keelung has risen to 115 since the initial cases were reported in late March, Chen said it should not be seen as a rapid spread of the disease in the port city of around 360,000 people.
The CECC is set to deliver 200,000 COVID-19 home test kits to district offices in Keelung on Friday in a bid to identify more cases and contain the spread of the disease in the city, Chen said.
In addition to following existing COVID-19 prevention rules, Chen urged people to get vaccinated.
The CECC reported that over half of Taiwan's 23.32 million population has received a booster dose since the rollout of the third shot was introduced in late December.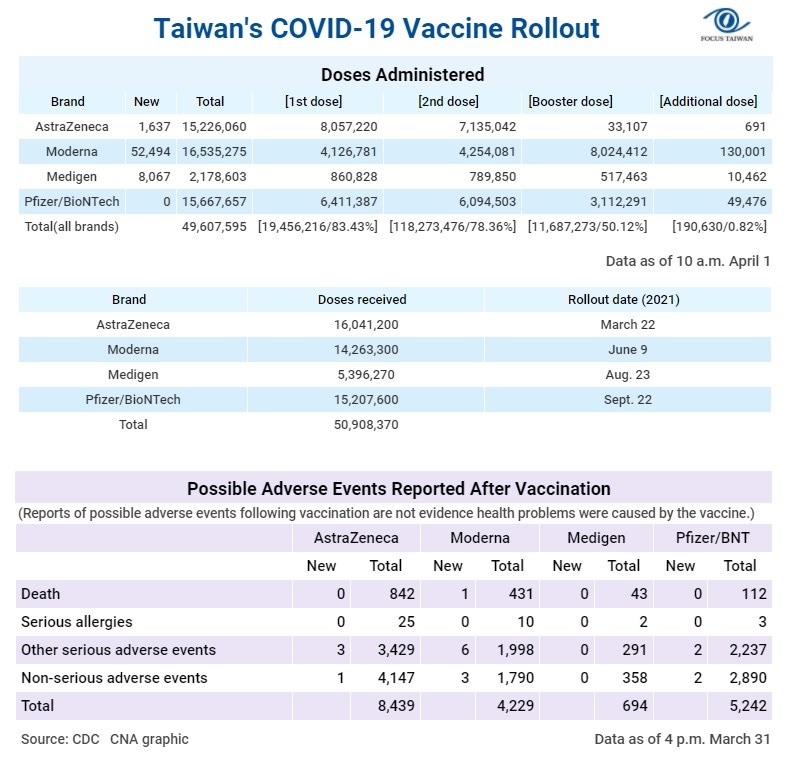 Asked about the safety of upcoming large gatherings, such as singer A-mei's (張惠妹) tour in Taiwan and the Dajia Mazu Pilgrimage, Chen said those attending such events should be tested at a hospital or clinic, or call the CDC 1922 hotline if they get a positive result on a rapid test.
Amid the recent surge of domestic cases, the CECC announced Tuesday that only people who have received three doses of the COVID-19 vaccine can attend religious events, such as the Dajia Mazu Pilgrimage.
Related News
April 1: Taiwan sees 104 local COVID-19 cases, 40 in New Taipei
March 31: Keelung COVID-19 cluster linked to karaoke bar grows to 91 cases
March 30: Mass COVID-19 testing in Keelung planned as domestic cases spike
March 29: Keelung cluster involving karaoke bar, police officers, grows to 48 cases
March 28: Keelung, Taoyuan clusters see spike in new COVID-19 cases
March 27: Domestic COVID-19 cases spike in Taiwan as clusters grow
Recent cases
April 1: Taiwan reports 236 COVID-19 cases, including 104 domestic
March 31: Taiwan reports 239 COVID-19 cases, including 87 domestic
March 30: Taiwan reports 163 new COVID-19 cases, including 56 domestic
March 29: Taiwan reports 96 new COVID-19 cases, including 33 domestic
March 28: Taiwan reports 127 new COVID-19 cases, including 34 domestic
View All