Taiwan's Health Minister signs up for smoking cessation challenge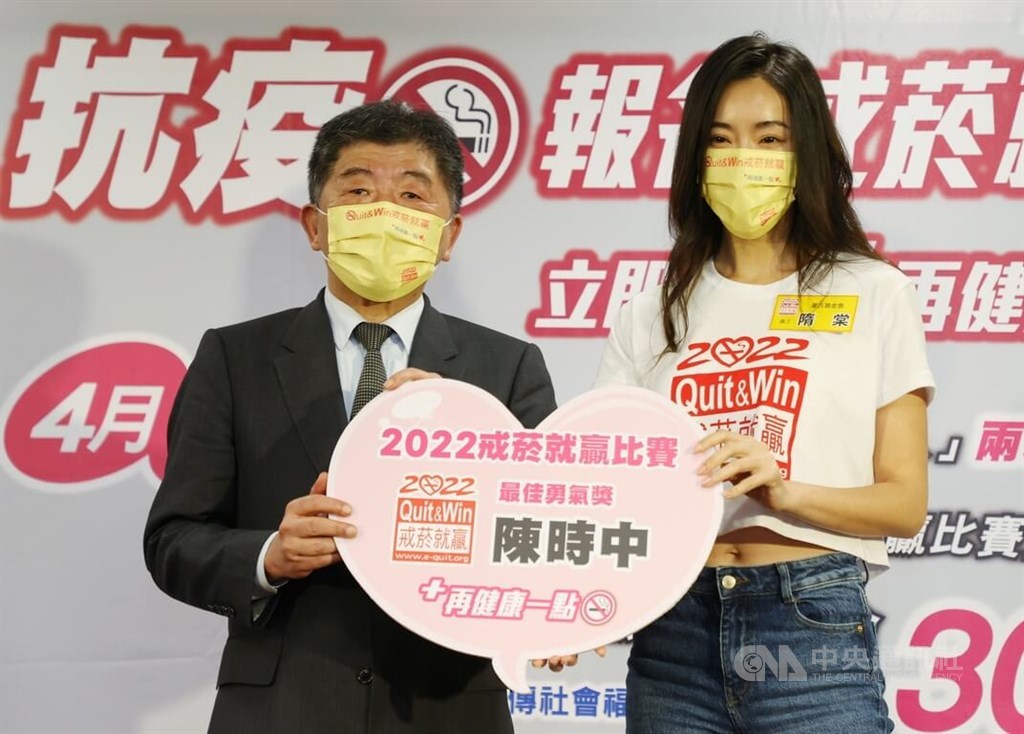 Taipei, March 28 (CNA) Taiwan's Minister of Health and Welfare Chen Shih-chung (陳時中), a heavy smoker for 52 years, on Monday signed up for a smoking cessation challenge in the hope of serving as an example to other smokers that it is possible to give up the bad habit.
At a Taipei press conference to announce the biennial "Quit and Win" competition, 68-year-old Chen, who doubles as head of the Central Epidemic Command Center, said he has been smoking since he was 17 but the thought of giving up never occurred to him until about a month ago.
It was then that a phone call and a letter from Lin Ching-li (林清麗), head of the Tobacco Hazard Prevention Section under the John Tung Foundation, one of the chief organizers of the challenge, persuaded him to accept the challenge to try and stop smoking, Chen said.
According to Lin, the letter dated Feb. 25, detailed Chen's efforts as health minister in promoting tobacco hazard prevention in Taiwan, while inviting him to take part in this year's smoking cessation challenge.
After receiving Lin's invitation, Chen said for the first time in his life he seriously considering kicking the habit.
As the head of the government branch in charge of tobacco hazard prevention policies, Chen said he believes it is important for him to serve as an example in encouraging smokers to quit.
Admitting that it was a tough decision to make, Chen said he is not sure if he will be able to successfully quit smoking by signing up for the challenge.
"But the fear of failing should not prevent smokers like me from trying," he said.
The "Quit and Win" campaign, first launched in Taiwan in 2002, is jointly organized by the John Tung Foundation and the Health Promotion Administration under the Ministry of Health and Welfare, as part of their efforts to promote public health.
According to the rules of the challenge, competitors must stop smoking for the period May 2 to May 29.
After a medical evaluation and an assessment by a person chosen by contestants to supervise them, known as a witness, those who complete the challenge qualify for a lucky draw to win top prize of NT$300,000 (US$10,422).
Chen chose his wife to serve as his witness.
According to challenge organizers, statistics show that over the years about 70 percent of participants in the biennial event manage to stop smoking for a month after taking part, while around 35 percent stop for at least one year.