CORONAVIRUS
/
Taiwan reports 4 new domestic cases, identifies origins of 3 others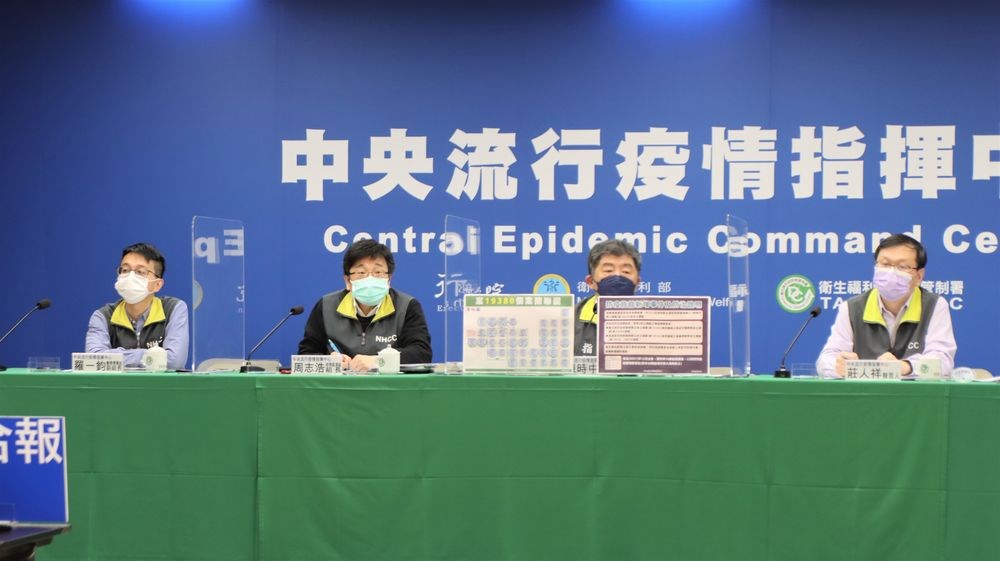 Taipei, Feb. 21 (CNA) Taiwan's Central Epidemic Command Center (CECC) reported four new domestically transmitted COVID-19 cases on Monday and said three previously recorded cases thought to be imported or spread by close contacts actually originated in quarantine hotels.
The four new domestic cases are all linked to existing clusters, Health and Welfare Minister Chen Shih-chung (陳時中) said at a press briefing.
Domestic COVID-19 cases
One of the new individuals infected was a family member of a Taoyuan International Airport security guard who tested positive on Feb. 15 after coming into contact with a traveler infected with COVID-19, Chen said.
Three other family members of the security guard had previously been confirmed with COVID-19.
Two other cases were linked to a cluster of unknown origin, in which the first reported cases involved a family in Kaohsiung. The cluster also includes three employees at the Dalin Refinery Plant in the southern city and now totals 12 cases, according to Chen.
The remaining domestic case Monday involved a woman who dined at the same restaurant in New Taipei on Feb. 9 as an interior designer who tested positive for COVID-19 four days later, Chen said.
The woman's husband, who was with her at the restaurant, has been reclassified as a domestic case, as the CECC has concluded that it is most likely he was infected at the restaurant, Chen said.
The man was initially listed as an imported case when he first tested positive on Feb. 20, as he had returned to Taiwan from China on Jan. 18, CECC data showed.
The source of the cluster, which totals 38 cases to date, is still unknown, according to the CECC.
Three of the individuals whose infections were reported Monday had received two or three doses of a COVID-19 vaccine, while the fourth, a boy under 10 years old, had not been vaccinated, the CECC said.
Currently, there are eight clusters or individual cases with unknown origins in Taiwan that the CECC is monitoring.
Omicron variant
Genome sequencing has been performed on samples from patients in seven of the clusters, which show they were infected with two different versions of the Omicron variant.
Also on Monday, the CECC said that based on genome sequencing results, three previously reported COVID-19 cases were found to have originated in quarantine hotels.
One of the cases involved a traveler from China who was infected during his stay at a quarantine hotel in New Taipei by a traveler staying in an adjacent room, Chen said. The case had originally been listed as originating abroad.
In another case, an individual who later tested positive was asked to quarantine at a hotel in Taipei after coming into contact with a person who had COVID-19.
Genome sequencing results showed that he was not infected by the person he came in contact with, as had been suspected, but by someone staying on the same floor in the quarantine hotel, Chen said.
The remaining case involved a man who tested positive for COVID-19 on Feb. 11 after a family member had been confirmed with the disease.
Genome sequencing results indicated, however, that he was infected during his stay at a quarantine hotel after returning from China on Jan. 10 by family members of an employee at the Port of Kaohsiung who were quarantined on the same floor of the hotel, Chen said.
Based on these results, the CECC has determined that the man was the first in his family to contract the disease, which then spread to the workplace of two his family members -- a gravel supplier in Kaohsiung -- and contacts of employees at the gravel company, Chen said.
The CECC did not provide information on how the virus spread within the three hotels.
Taiwan has reported 22 cases originating in a total of 14 quarantine hotels since the beginning of December. Six of the hotels are in Taipei, two are in New Taipei, and three each are in Taoyuan and Kaohsiung.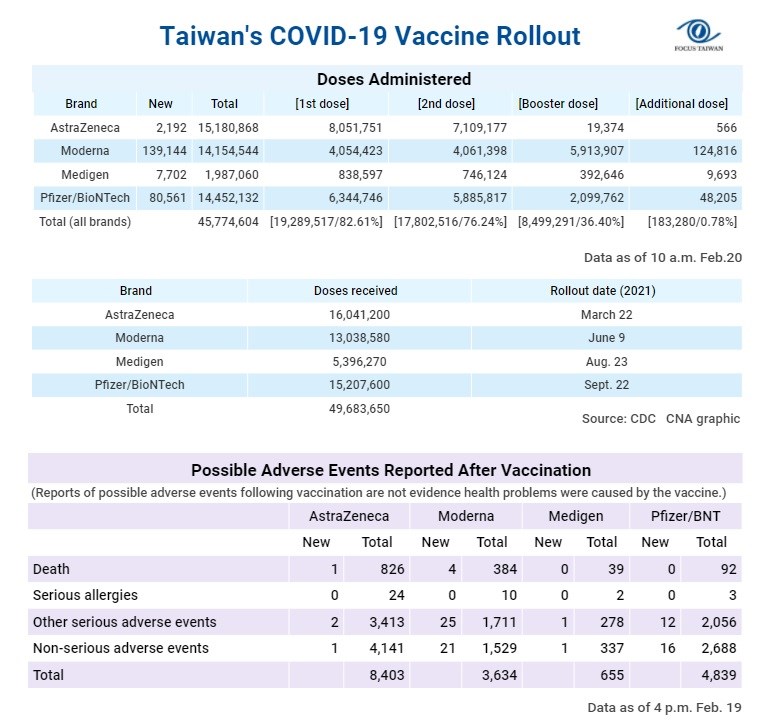 Imported COVID-19 cases
In addition to the domestic cases, Taiwan also reported 45 people with infections that originated abroad, 24 of whom tested positive upon arrival in Taiwan. The CECC did not release any information regarding the vaccination status of the imported cases.
To date, Taiwan has confirmed 20,056 COVID-19 cases since the pandemic began in early 2020, including 15,387 domestically transmitted infections.
With no deaths reported Monday, the number of confirmed COVID-19 fatalities in the country remained at 852.
Recent cases
Feb. 20: Taiwan reports 70 new COVID-19 cases, including four domestic
Feb. 19: Taiwan reports 73 new COVID-19 cases, including eight domestic infections
Feb. 18: CECC closely monitoring religious group COVID-19 cluster
Feb. 17: Taiwan sees 14 new local COVID-19 cases, 10 tied to real estate cluster
Feb. 16: Taiwan reports 67 new COVID-19 cases, including 14 domestic
View All