CORONAVIRUS
/
Taiwan ends 2021 with record number of daily imported COVID-19 cases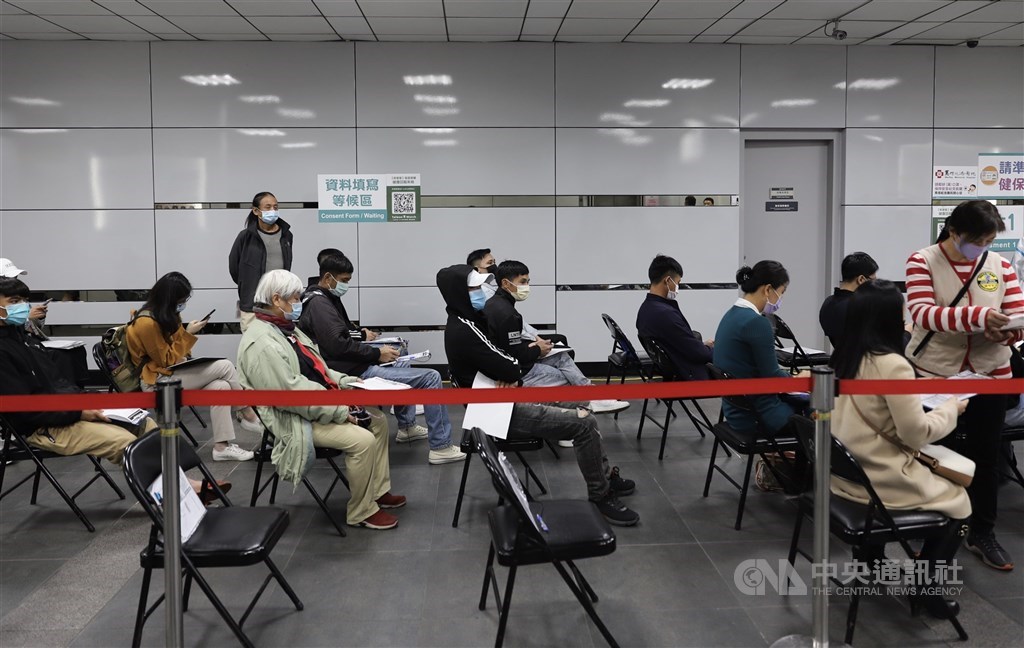 Taipei, Dec. 31 (CNA) Taiwan reported 41 imported cases of COVID-19 cases on the last day of 2021, a single-day record, amid reported new outbreaks around the world, according to the Central Epidemic Command Center (CECC).
The CECC is still researching the details of the 41 newly confirmed cases, including the nationality of a man who entered Taiwan on Dec. 17, CECC spokesman Chuang Jen-hsiang (莊人祥) said, noting that Friday's number was a big jump from the 24 cases reported the previous day.
In a Facebook post, Wang Pi-sheng (王必勝), head of the Hospital and Social Welfare Administration Commission, said Taiwan must maintain its tight border control and quarantine rules, as there are no indications that the current wave of COVID-19 infections around the world has reached a peak yet.
Friday's spike in cases in Taiwan "is actually a very serious warning sign," Wang wrote.
According to the CECC, the 41 new cases are people ranging in age from 20s to 70s, and 34 of them are Taiwanese, while the others are Filipino, Honduran, American, Ukrainian, and Vietnamese.
Some of the travelers entered Dec. 16-30 from the United States, the Philippines, France, Italy, Kenya, Cameroon, Switzerland, India, the United Arab Emirates, Ukraine, Vietnam and Cambodia, the CECC said, adding that it is still trying to determine where 14 of them started their trip to Taiwan.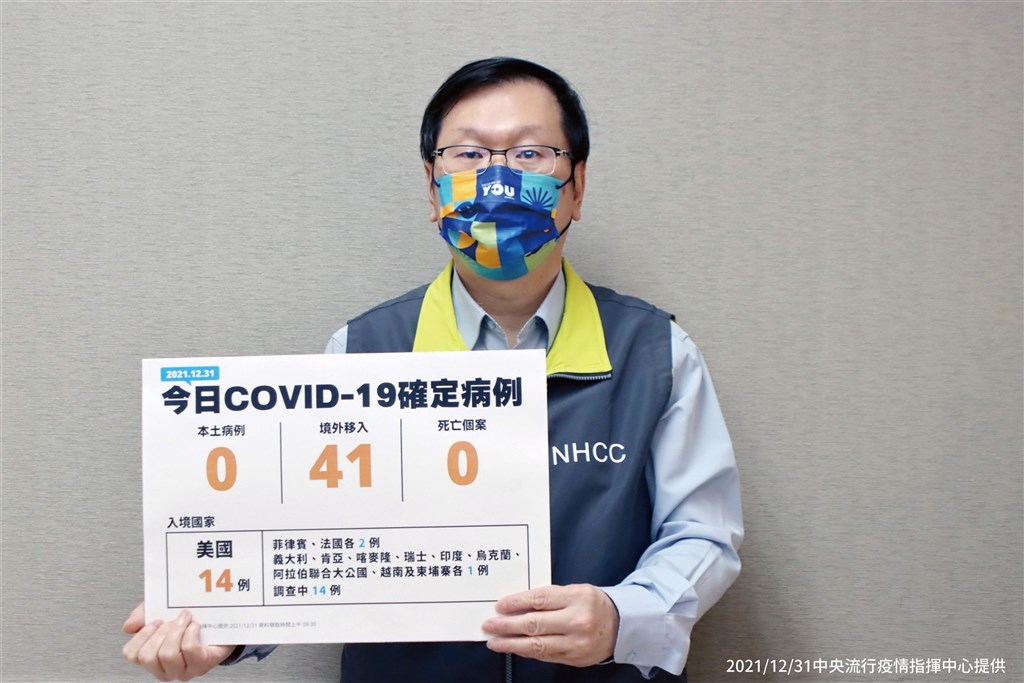 Of the 41 new cases, 25 were classified as breakthrough infections, three were unvaccinated, and the vaccination status of the other 13 was still being investigated, according to the CECC.
Meanwhile, Chuang said that one of three COVID-19 cases recently linked to a quarantine hotel in Taipei's Zhongzheng District has been confirmed as an infection with the Omicron variant of the virus, the 60th recorded in Taiwan since the first one on Dec. 11.
The new patient, a Taiwanese man in his 40s who returned from China on Dec. 14, tested positive for COVID-19 during the last four days of his quarantine, which was being carried out at home under Taiwan's special quarantine rules that were introduced for the Dec. 14 to Feb. 14 period, mainly to facilitate Lunar New Year travel.
Genome sequencing is being done in the other two cases, and the results are expected by Saturday, Chuang said, adding that those two patients were staying in different rooms at the hotel where the man had completed his first 10 days of quarantine after his arrival in Taiwan.
He said eight employees and 51 other guests at the hotel have tested negative, four guests are awaiting results, and 14 have not yet been tested.
The hotel has been closed temporarily and further testing will be done in the next few days, Chuang said Friday.
Since the start of the pandemic in early 2020, Taiwan has confirmed 17,029 COVID-19 cases, of which 14,436 are domestic infections reported since May 15, 2021, when the country first recorded more than 100 cases in a single day.
Daily domestic case numbers have fallen to mostly single digits or zero since Aug. 15. So far this month, 10 cases have been reported, including seven linked to cluster infections at quarantine hotels in Taipei and Taoyuan.
With the 41 new cases, the number of imported infections recorded in December rose to 418, from 188 in November.
Meanwhile, of Taiwan's 60 cases of the Omicron variant, 55 have been classified as breakthrough infections, three are people who received one dose of a COVID-19 vaccine, one is unvaccinated, and the vaccination status of one person has not been confirmed, according to CECC data valid as of Friday.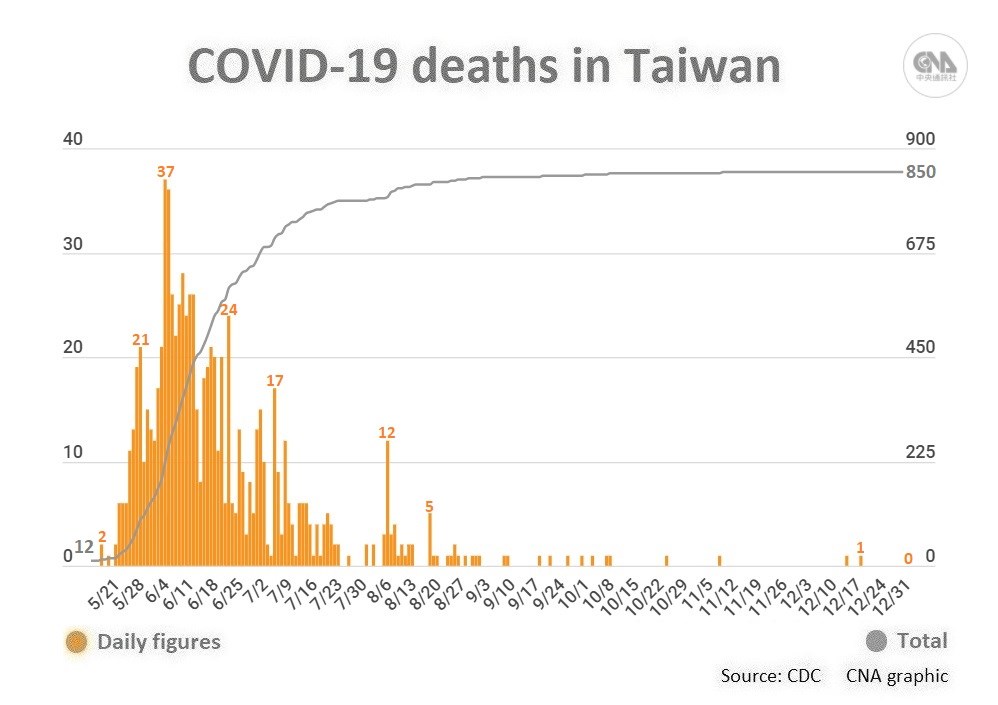 As no deaths were reported Friday, the number of confirmed COVID-19 fatalities in the country remained at 850, all but 12 of which have been recorded since May 15. Taiwan's last reported COVID-19 death was on Dec. 19, according to the CECC.
Since the rollout of the COVID-19 vaccination program in Taiwan on March 22, 79.96 percent of country's 23.39 population has received at least a dose of a COVID-19 vaccine, while 68.90 percent has had two doses, according to CECC data released on Friday.
A total of 147,207 people, or 0.63 percent of the population, have received a booster shot five months after their second dose, while 4,216 people who are immunocompromised or have a weakened immune system have received an "additional dose," which can be administered 28 days after the second shot, the CECC data shows.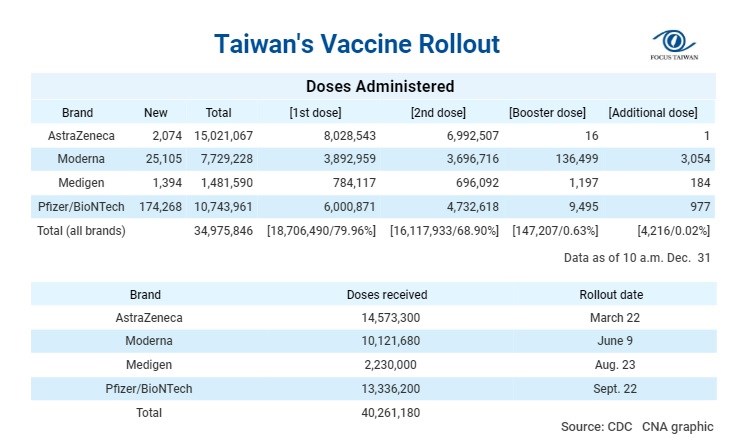 Recent cases
Dec. 30: Taiwan reports 24 new COVID cases, including two in potential cluster
Dec. 29: Taiwan reports 14 new COVID cases, including one pilot
Dec. 28: Taiwan reports 19 new COVID cases; karate team confirmed with Omicron
Dec. 27: Taiwan reports 16 new COVID-19 cases, confirms six Omicron cases
Dec. 26: Taiwan reports one new domestic COVID-19 case, one Omicron case
View All