CORONAVIRUS
/
Taiwan reports 15 new COVID-19 cases, zero deaths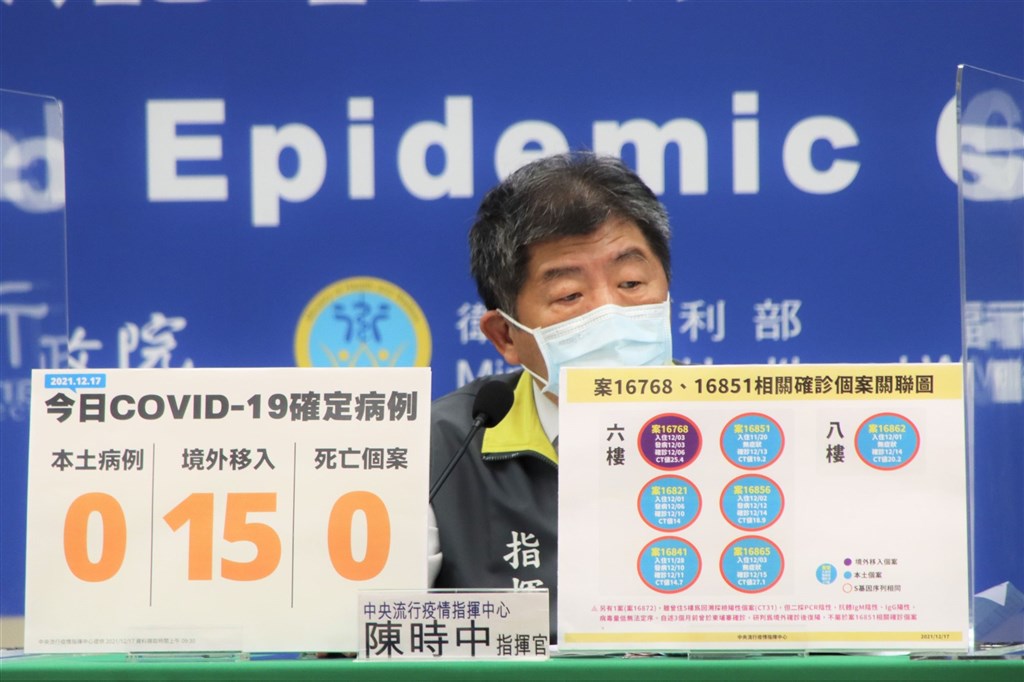 Taipei, Dec. 17 (CNA) Taiwan reported 15 new cases of COVID-19 on Friday, all contracted overseas, and no new deaths from the disease, according to the Central Epidemic Command Center (CECC).
The new imported cases were 10 Taiwanese and five foreign nationals, who had traveled to Taiwan from the United States, the Czech Republic, Ireland, Singapore, Vietnam, the United Kingdom, Nigeria, the Maldives, Cambodia, the Philippines, Indonesia, and Thailand, according to the CECC.
The CECC also announced that seven previous cases deemed as "imported" have been reclassified as domestically-transmitted infections. These cases were staying at quarantine hotels in Taoyuan and Taipei.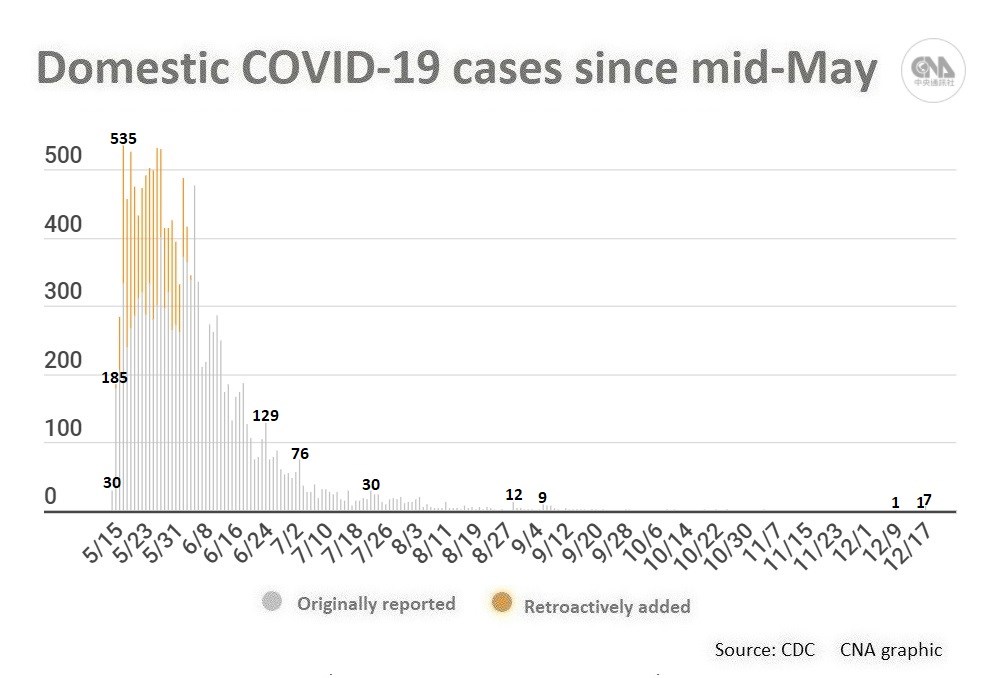 To date, Taiwan has confirmed a total of 16,786 COVID-19 cases since the pandemic began in early 2020, of which 14,435 were domestic infections reported since May 15, 2021, when the country first recorded more than 100 cases in a single day.
With no new deaths reported Saturday, the number of confirmed COVID-19 fatalities remains at 849, with all but 12 recorded since May 15.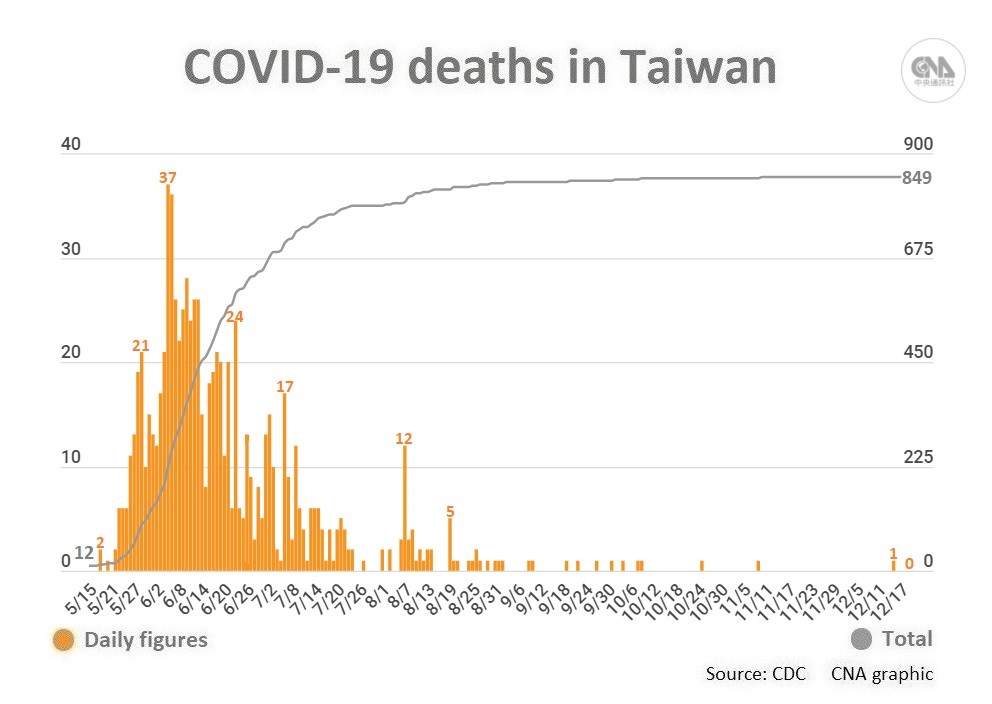 Update
Dec. 17: Taoyuan hotel cluster case's contacts test negative for COVID-19
Related News
Dec. 16: Taiwan confirms COVID-19 cluster at Taoyuan quarantine hotel
Dec. 15: CECC to investigate possible COVID-19 infection at Taipei quarantine hotel
Recent cases
Dec. 16: Taiwan reports second domestic COVID-19 case in December
Dec. 15: Taiwan reports seven COVID-19 cases, one death
Dec. 14: Taiwan reports 10 new imported COVID-19 cases, zero deaths
Dec. 13: Taiwan reports five new COVID-19 cases, extends Level 2 alert
Dec. 12: Taiwan reports six new COVID-19 cases, zero deaths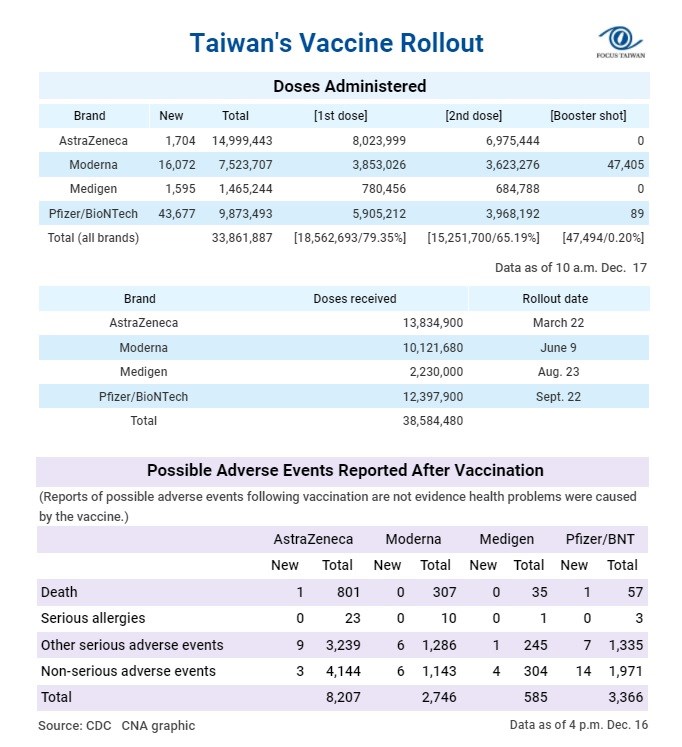 View All