CORONAVIRUS
/
Taiwan reports zero COVID-19 deaths for 2nd consecutive day
Taipei, July 26 (CNA) Taiwan reported 11 new COVID-19 infections but no deaths from the disease on Monday, the second consecutive day nobody in the country was reported to have died of the disease, according to the Central Epidemic Command Center (CECC).
Of the 11 cases, 10 were domestically transmitted -- four were reported in Taipei and three each originated in New Taipei and Taoyuan, Health Minister Chen Shih-chung (陳時中), who heads the CECC, said at the CECC's daily briefing.
The 10 patients consisted of seven men and three women in their 20s to 70s. Five tested positive during home isolation or at the end of their home quarantines after developing symptoms between July 19 and 25, Chen said.
One of the 10 domestic cases has an unknown source, and another is still being investigated, he said.
The one case contracted overseas involved a Taiwanese man in his 50s who worked on a fishing boat, Chen said.
The boat departed from Taiwan on June 22 and when it returned on July 20, it was found to have eight stowaways on board -- six from Indonesia and two from Myanmar.
All people on the boat received COVID-19 tests, and while the Taiwanese man tested negative at that time, he was taken to a government-run quarantine center to be isolated because six others on the boat tested positive, according to the CECC.
The man began to experience a scratchy throat on July 25, so he got tested again, and the results came back positive on Monday, the CECC said.
Chen said the man was determined to have contracted the disease on the fishing boat on the high seas, and his case was therefore classified as imported.
The new cases bring the total in the country to 15,582, of which 14,108 are domestic infections reported since May 15, when Taiwan first recorded more than 100 COVID-19 cases in a single day.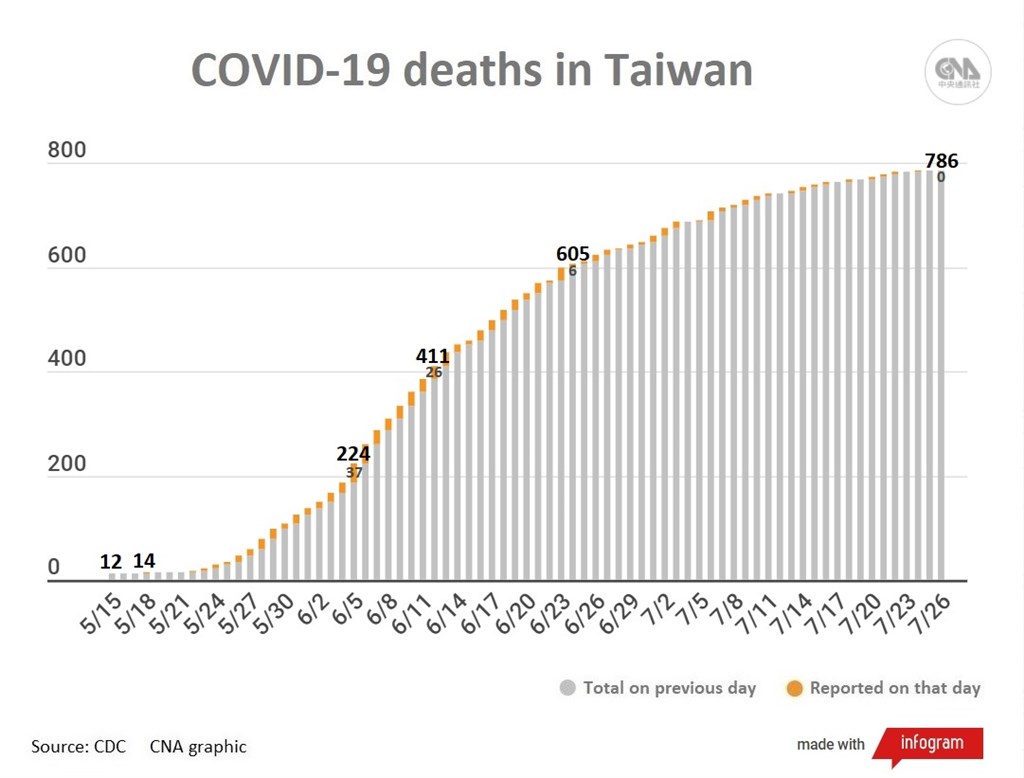 To date, 786 people have died of COVID-19 in Taiwan, including 774 since May 15.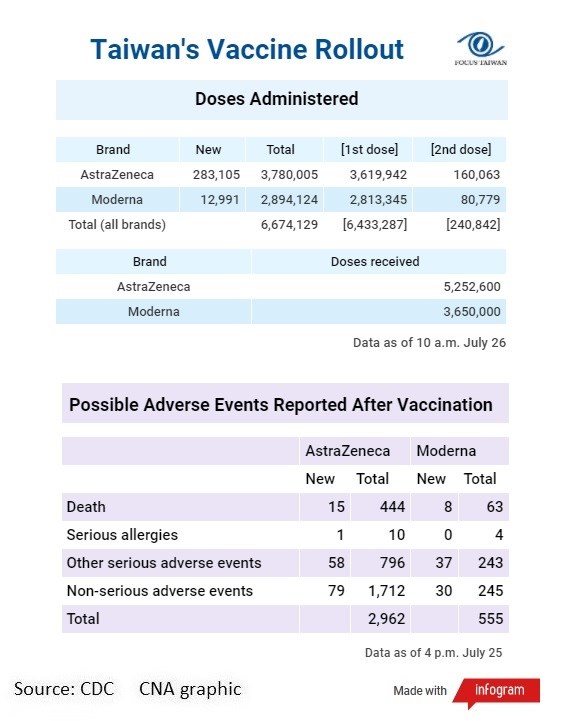 Recent cases
July 25: Caution urged as Taiwan adds dozen local COVID-19 cases, zero deaths
July 24: Taiwan reports 25 new COVID-19 cases, most infection sources known
July 23: Taiwan reports 24 new cases of COVID-19, two deaths
July 22: Taiwan reports 33 new COVID-19 cases, 30 domestic cases in the north
View All