CORONAVIRUS
/
Taiwan reports 27 new COVID-19 cases; adult daycare centers can open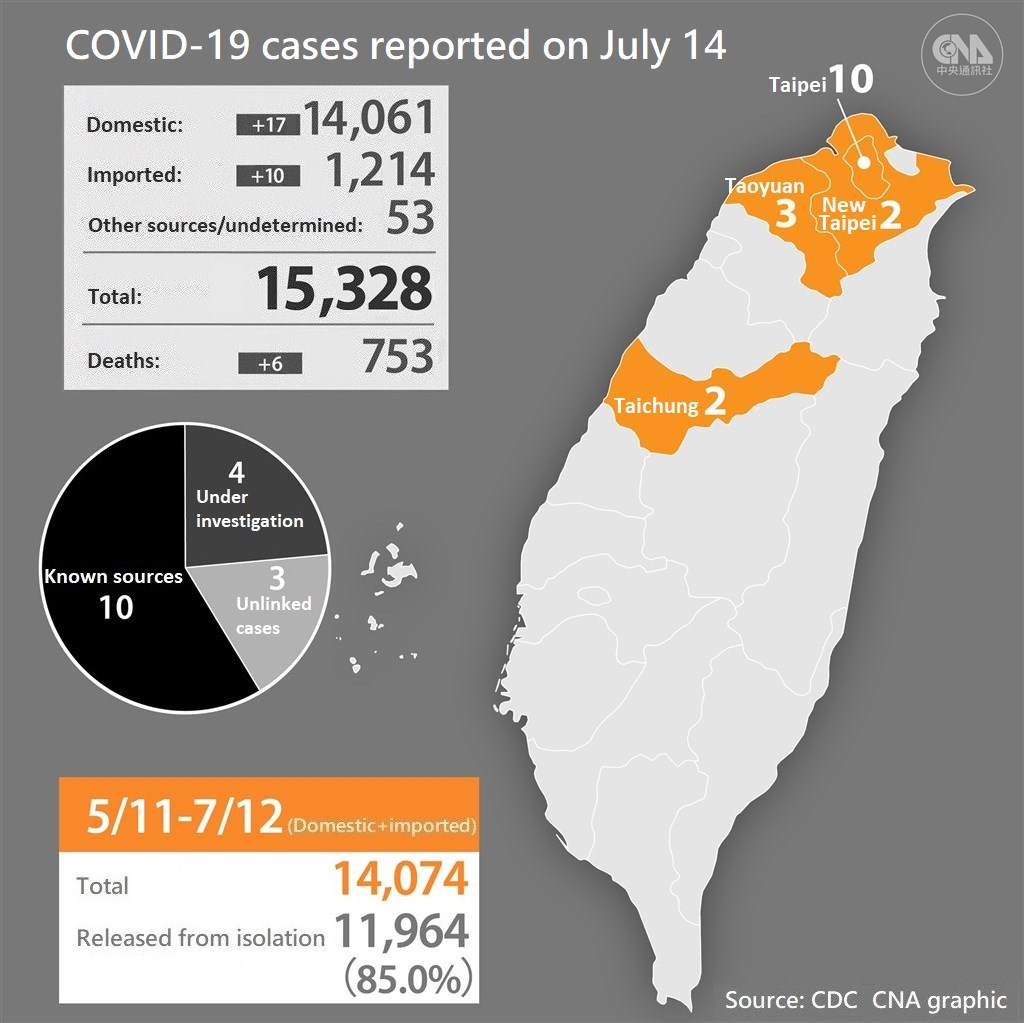 Taipei, July 14 (CNA) The Central Epidemic Command Center (CECC) on Wednesday said Taiwan recorded 27 new cases of COVID-19 and six deaths from the disease, and announced that adult daycare centers are now allowed to reopen as long as certain COVID-19 prevention measures are taken.
Of the 27 new cases, 17 were domestic transmissions and 10 were imported cases, according to the CECC.
The number of new domestic cases is the lowest Taiwan has reported in a single day in two months. Ten of the cases were reported in Taipei, followed by three in Taoyuan and two each in New Taipei and Taichung.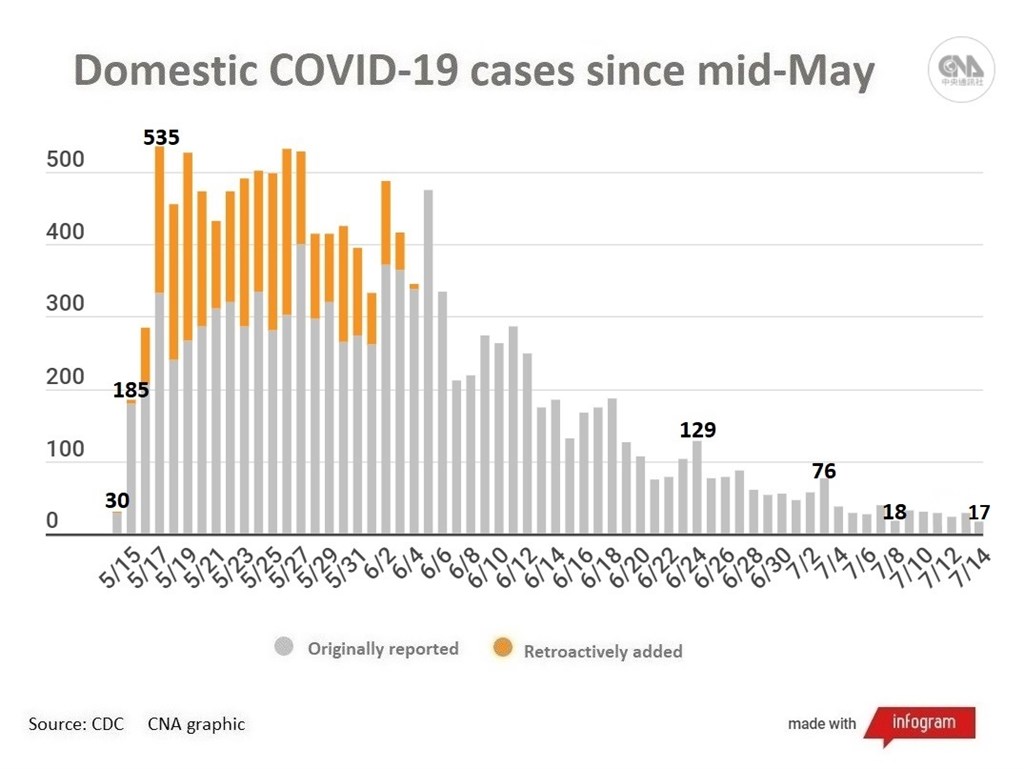 Speaking at the CECC press briefing, Health Minister Chen Shih-chung (陳時中) said that of the domestic cases, nine were contacts of previously confirmed COVID-19 patients and tested positive while in quarantine.
One other patient has a known infection source, four are under investigation, and three have no apparent connections to other COVID-19 cases, Chen said.
The imported cases, meanwhile, involved nine Taiwanese nationals and a Japanese national who traveled to Taiwan from Myanmar, the United Kingdom, Japan, Indonesia and Mauritania.
They all tested positive while in quarantine, according to Chen.
The increase in imported cases can be attributed to a rise in COVID-19 cases internationally, which has been fueled by the Delta variant of the COVID-19 virus, Chen said, pledging that the CECC will be monitoring the situation at the border closely.
The Delta variant, first detected in India, is considered to be the most transmissible of the COVID-19 virus variants identified so far, according to the World Health Organization (WHO).
The six deaths reported Wednesday were five men and one woman, in their 50s to their 80s, who passed away between July 10 and July 12.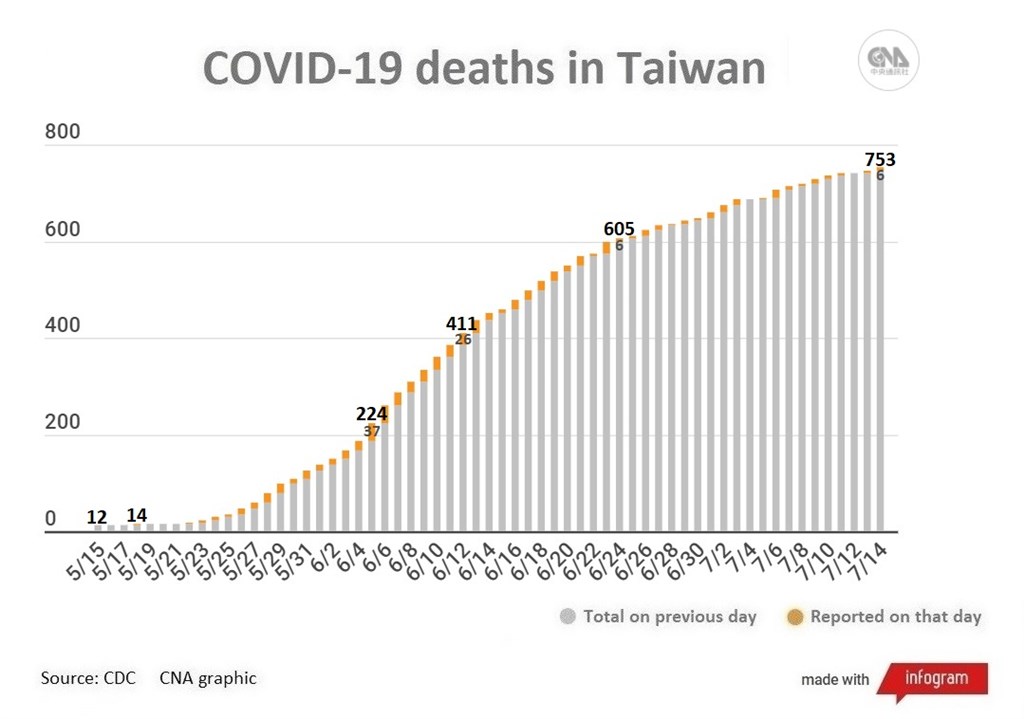 To date, Taiwan has confirmed a total of 15,328 COVID-19 cases, of which 13,898 are domestically transmitted infections reported since May 15, when the country first recorded more than 100 cases in a single day since the beginning of the pandemic.
The number of confirmed COVID-19 deaths in the country has risen to 753, with all except 12 recorded since May 15, CECC data showed.
Also on Wednesday, the CECC announced that adult daycare centers, psychiatric care and rehabilitation centers, and daycare centers for disabled children will be allowed to reopen under certain circumstances.
Eighty percent of a center's staff must have received their first dose of a COVID-19 vaccine before a center can re-open, Chu Chien-fang (祝健芳), who heads the Ministry of Health and Welfare's Department of Long-Term Care, said at the CECC briefing.
Staff members who aren't vaccinated have to present a negative result from a COVID-19 rapid test taken within three days when their center reopens, Chu said.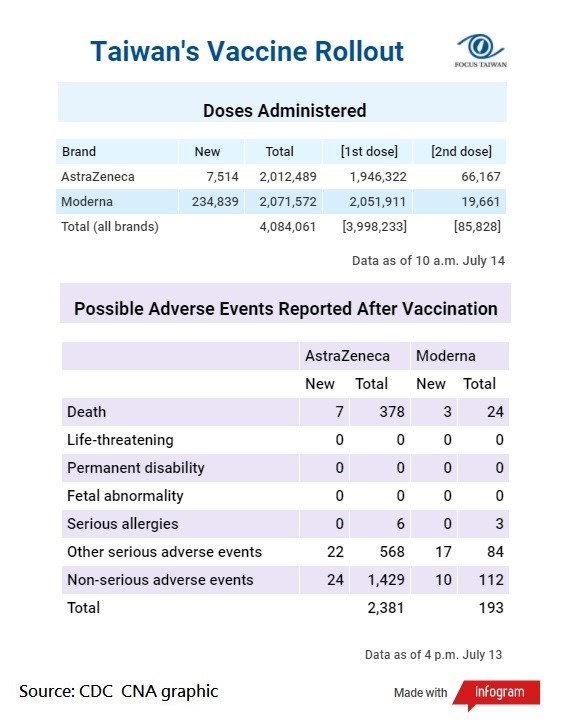 After that, they only need to be tested once a week, which is required of both center employees and the people they are caring for, Chu said. People who receive care at the centers can only go to the centers if 14 days have passed since they got their first COVID-19 shot.
Those who don't meet this requirement also need to present a negative COVID-19 test result issued within three days of their visit to the center, Chu said.
The rules don't apply to children under the age of 18, as Taiwan does not yet have COVID-19 vaccines available for them, Chu said.
On top of the vaccine and testing requirements, centers must also disinfect their premises at least two times per day and ensure that social distancing is maintained within the centers, Chu said.
Recent cases
July 13: Taiwan reports 29 new COVID-19 cases, 6 deaths
July 12: Taiwan reports 24 new COVID-19 cases, Rt value under 1 for 3 weeks
July 11: Taiwan reports 31 new COVID-19 cases, 'relatively low' number
July 10: Taiwan adds 33 new COVID-19 cases; Taipei, Pingtung clusters 'contained'
July 9: Taiwan reports 32 domestic COVID-19 cases; all in the north
View All