CORONAVIRUS
/
Taiwan reports 40 new COVID-19 cases, sees flat trend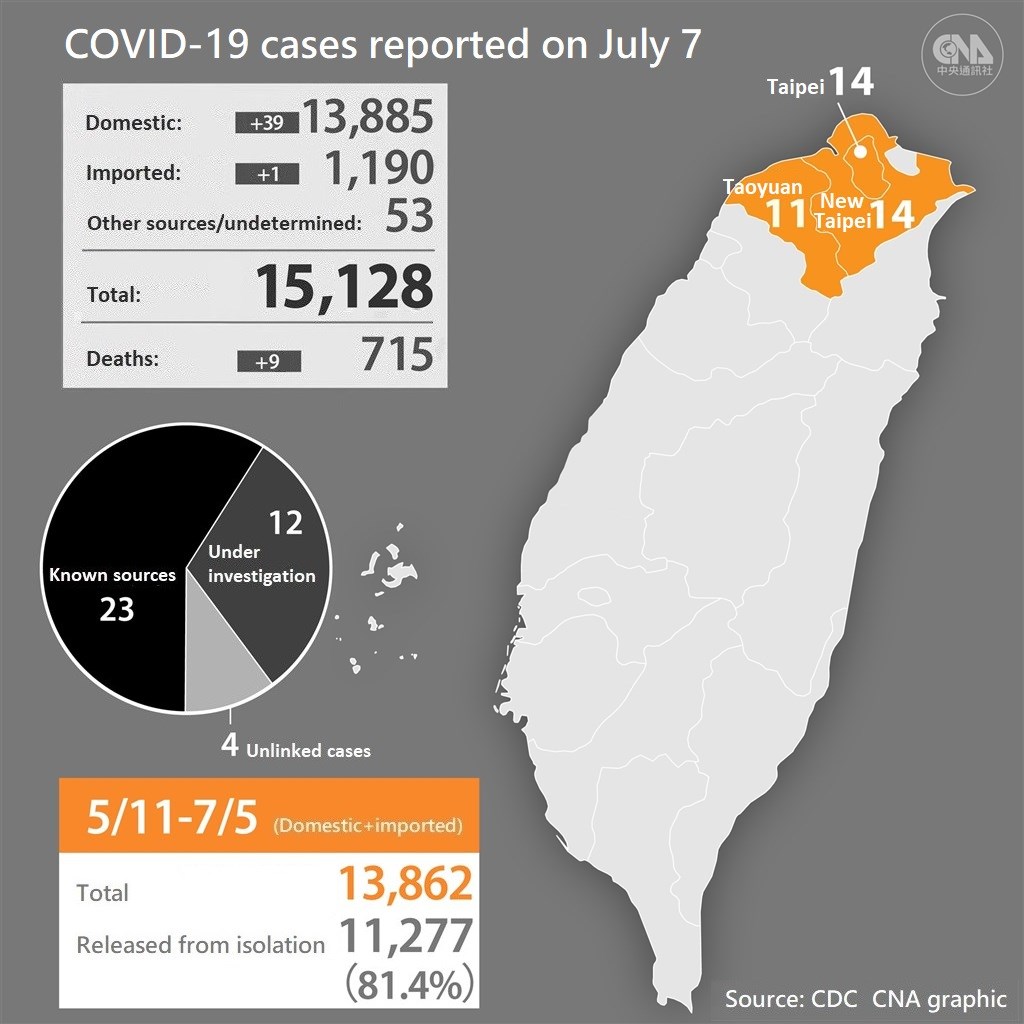 Taipei, July 7 (CNA) Taiwan on Wednesday reported 39 new domestic cases and one imported case of COVID-19 as the outbreak continues to follow a stable trend, according to the Central Epidemic Command Center (CECC).
While the new domestic cases outnumbered Tuesday's 27, CECC head Chen Shih-chung (陳時中) said 21 of the new cases involved people who were in isolation, suggesting there was little chance for the disease to spread.
In general, he said, there are no signs that the outbreak is heating up again.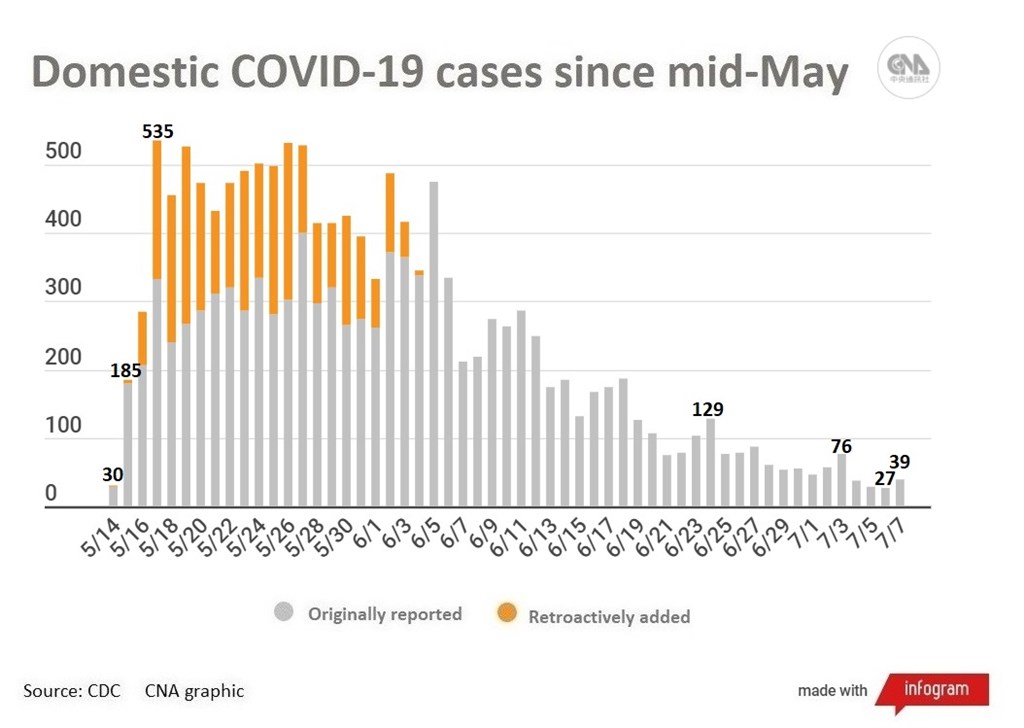 Among the domestic cases, 14 were recorded in both Taipei and New Taipei and 11 were recorded in Taoyuan, Chen said.
The CECC has identified sources of infection in 23 cases, while 12 are under investigation and four have no apparent link to previously confirmed cases.
The one imported case was a Taiwanese national in her 40s, who returned from Thailand on July 4, Chen said.
The deaths reported were four men and five women, who passed away between July 3-5, the Chen said.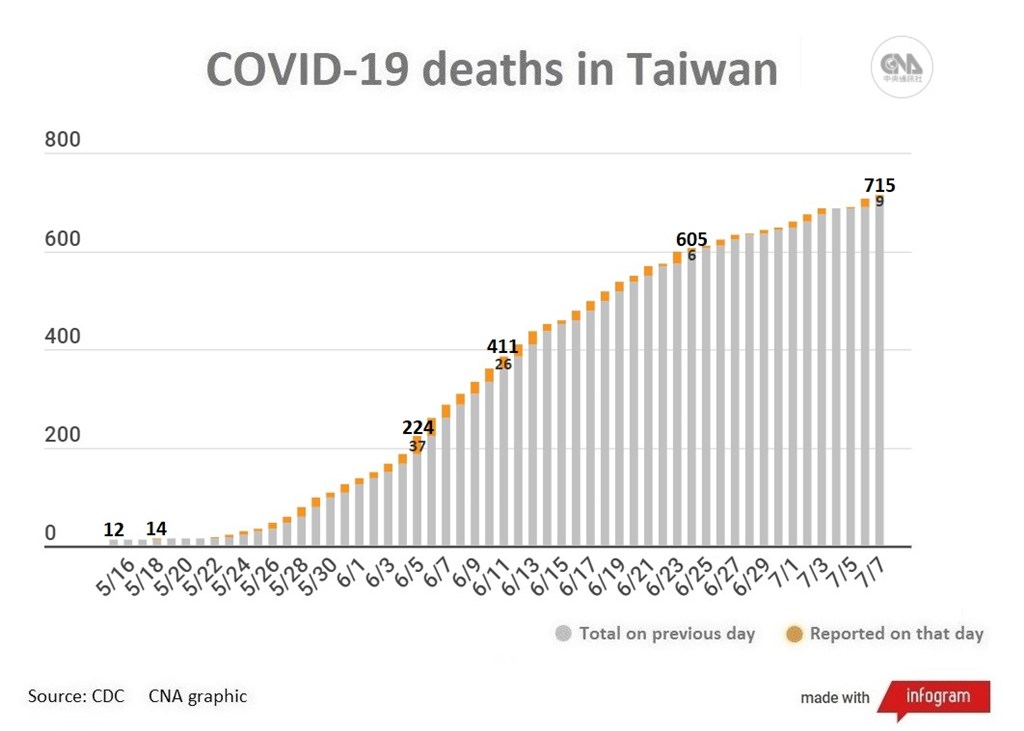 As of Wednesday, Taiwan had recorded 15,128 confirmed COVID-19 cases since the pandemic began in early 2020, but about 13,700 of those are domestic infections reported since May 15, when the country first recorded more than 100 COVID-19 cases in a single day.
To date, 706 people in Taiwan have died of COVID-19, including 694 since May 15.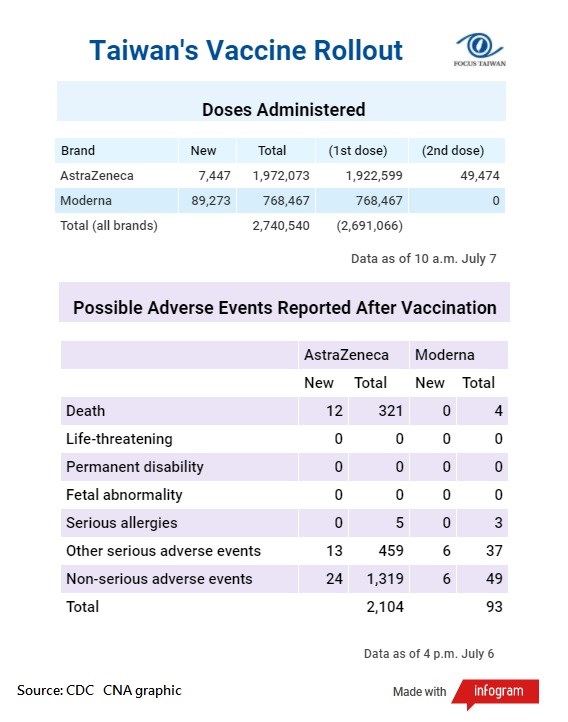 Recent cases
July 6: Taiwan reports 29 new COVID-19 cases, 1 more in Delta cluster
July 5: Taiwan reports 31 new COVID-19 cases, Delta cluster grows to 16 cases
July 4: Taiwan reports 39 new COVID-19 cases, pushing total case numbers past 15,000
July 3: Taiwan adds 80 new COVID-19 cases, driven by Taipei market cluster
July 2: Taiwan reports 58 new cases, outbreak in Taipei market
View All