CORONAVIRUS
/
COVID-19 patients visited bar, restaurants in Taipei, New Taipei before diagnosis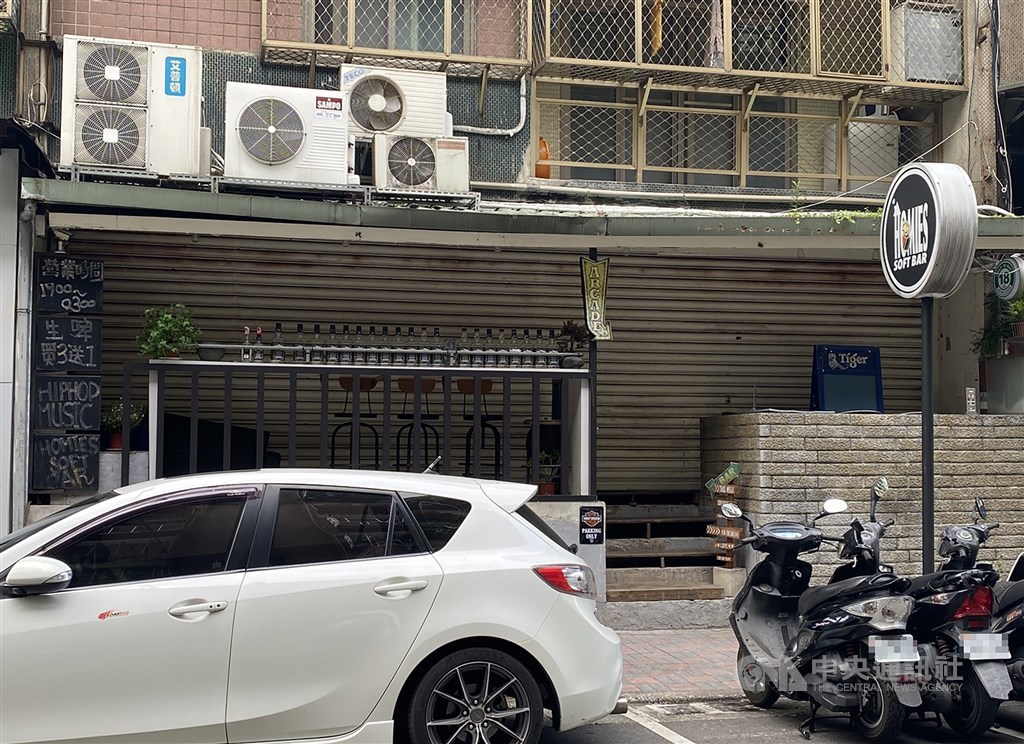 Taipei, May 4 (CNA) The Central Epidemic Command Center (CECC) on Tuesday released details of places visited by two people recently reported to have COVID-19 before testing positive for the disease.
One of the people whose whereabouts were made public is a Taiwanese China Airlines (CAL) pilot in his 30s, who returned from the United States on April 18 and completed the three-day quarantine required of domestic flight crew members on April 21.
Despite testing negative for COVID-19 on April 21 and April 25, the man developed symptoms including a cough and fever on May 1, and tested positive on Tuesday, with a CT value of only 13, indicating a high amount of the virus in his body.
According to the CECC, the man visited Homies Soft Bar, near Nanjing East Road in Taipei's Songshan District, in the early hours of April 29.
From 6:30 p.m.-8:00 p.m. on April 29, he ate at Hai Zhen Private Kitchen restaurant, which is located off Minsheng East Road, also in Songshan District, Health Minister Chen Shih-chung (陳時中) said at a press conference.
A total of 11 CAL pilots have recently tested positive for COVID-19, several of whom had quarantined at the Novotel Taipei Taoyuan International Airport hotel, which has recently emerged as the site of a COVID-19 cluster.
The pilot whose case was announced on Tuesday did not stay at the Novotel, though he met with a female flight attendant on April 29 who did quarantine at the hotel and tested positive Tuesday.
The CECC also released the whereabouts of a second patient, a Taiwanese man in his 40s who was working as a subcontractor on a renovation project at the Novotel.
His diagnosis was reported on Monday.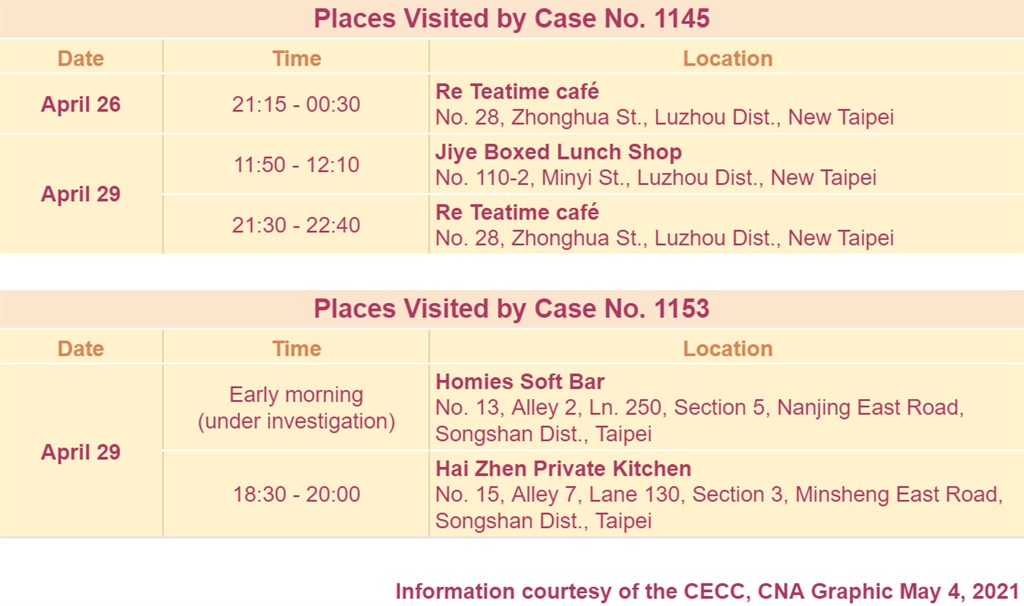 According to the CECC, the man visited Re Teatime café (皇爵飲料店) in New Taipei's Luzhou District from 9:15 p.m. on April 26 to 12:30 a.m. on April 27.
On April 29, he ate at Jiye boxed lunch shop (吉野烤肉飯) in Luzhou from 11:50 a.m. to 12:10 p.m., and returned to the same Re Teatime café from 9:30-10:40 that evening, said Chen, who also heads the CECC.
Members of the public who visited these places, at around the same time, should closely monitor their health and seek medical attention if they develop symptoms such as a fever, breathing difficulties or diarrhea before May 13, Chen said.
Aside from the 11 CAL pilots, eight relatives of CAL pilots, a CAL flight attendant, five people who worked at Novotel and three of their family members have tested positive for COVID-19 over the past two weeks, according to the CECC, which is still investigating if and how the cases are connected.
View All