Food delivery drivers to form labor union to negotiate for fair pay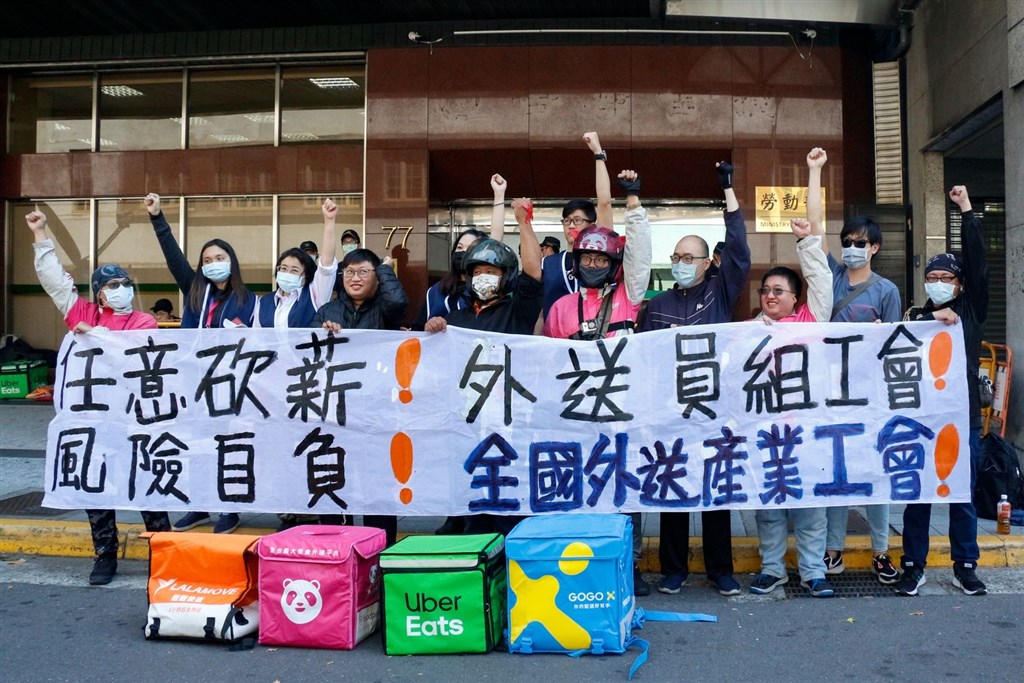 Taipei, April 20 (CNA) Drivers working with Taiwan's major food delivery platforms pledged Tuesday to form a labor union to demand fair pay, while calling for legislative action to be taken by labor affairs authorities.
The group held a press conference Tuesday outside the Ministry of Labor (MOL) building, calling on those who work with foodpanda and Uber Eats to sign up for the proposed National Delivery Industrial Union.
Both foodpanda and Uber Eats have regularly modified their rules to calculate delivery service fees, often without any communication with the delivery drivers themselves, the group said.
The main purpose of setting up a labor union is to increase delivery drivers' leverage in negotiating for fair pay rules with the two platforms, said Su Po-hao (蘇柏豪), the group's spokesperson.
In March, foodpanda introduced new pay rules, citing better compensation for drivers who dispatch orders with pickups and destinations that are far apart as the main reason, said another group member, Chen Yu-an (陳昱安).
A few weeks later, Uber Eats did the same, saying that the new rules would encourage drivers to take orders during peak times, Chen added.
In both cases, however, the service fees were reduced due to the new rules, according to Su. Drivers for foodpanda in Taichung, Changhua and Nantou found that their pay decreased by 10 to 30 percent in March, while Uber Eats deliverers in the Greater Taipei area and Keelung also received 10 to 30 percent less.
Drivers usually have no idea how the platforms gauge their service fees, said Chen. He added that after updating the new rules yet again in April, Uber Eats no longer reveals the make-up of a driver's service fee for each order.
The labor union, if formed, will also seek to lobby the MOL and legislators to consider a designated legislation on food deliveries to protect drivers' rights.
Su said the group aims to establish the labor union within one or two months, but he acknowledged the challenge of such an effort, as delivery drivers' workplaces and work hours vary, making it difficult to gather them together at one time. Currently, 70 drivers in northern Taiwan and 30 in central and southern Taiwan have expressed an interest in joining the union, Su added.
According to the latest MOL data, the number of food deliverers in Taiwan had increased to 88,000 as of the end of 2020.
In response to Tuesday's press conference, the MOL said it welcomes the establishment of a labor union for food deliverers and it urged platforms to carry out dialogue with the group and ensure the labor rights of their delivery drivers.
The official said the ministry has not resolved the issue as to whether food delivery platforms have employment or contractual relationships with their deliverers. The ministry therefore hopes to better insure deliverers and ensure their safety at work, the official added.