Doctor urges government to look into teen vape use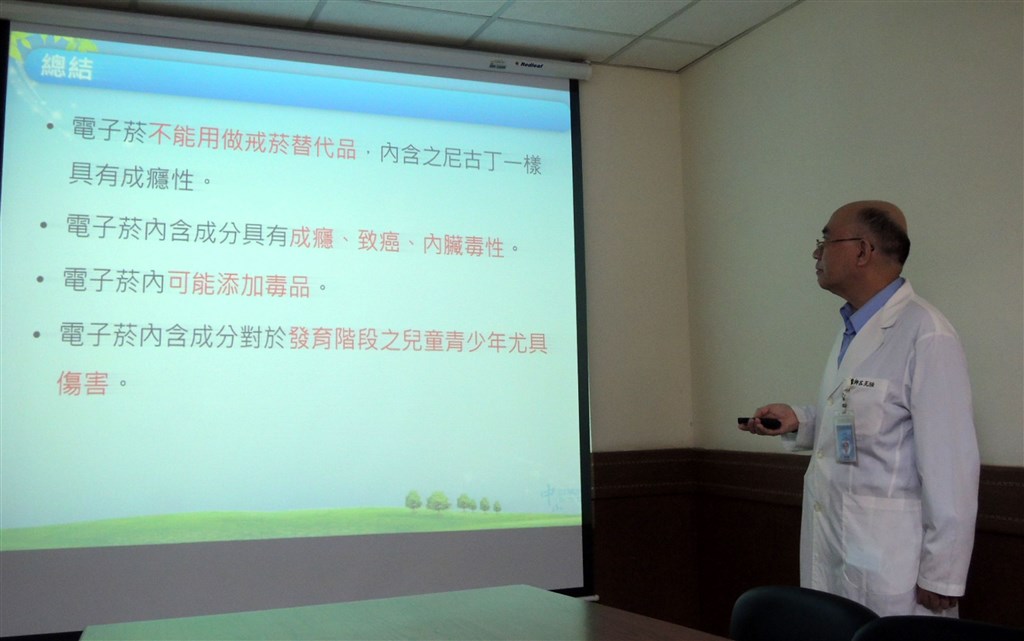 Taichung, Dec. 1 (CNA) A Taichung-based pediatrician urged the government to look into the continued availability of vaping products and their use by teenagers Tuesday, citing a case in which a 15-year-old boy was diagnosed with vaping-associated pneumonia in September.
Although vaping is severely restricted in Taiwan it is not technically banned and vaping products are easily accessible online or at markets across Taiwan, Lue Ko-huang (呂克桓), chief of Chung Shan Medical University Hospital's Division of Pediatric Allergy, Immunology and Rheumatology said at a press conference.
According to the latest survey conducted by the Health Promotion Administration in 2019, the number of teenagers who smoke regular cigarettes or use heated tobacco products continues to increase.
It is estimated that more than 81,000 teenagers smoke cigarettes, 57,000 smoke electronic cigarettes and 16,000 use heated tobacco products, the agency said.
Urging the government and parents to look into the situation, Lue said the teen, who has since recovered, has vaped for four years and sought treatment at a local clinic after developing symptoms of coughing, shortness of breath, epigastralgia and nausea.
The treatment offered by the clinic was not effective, the doctor said.
The teen was subsequently transferred to a hospital for an MRI scan of his lungs which showed he was suffering from bilateral pneumonia, affecting both lungs, said Lue, who is also chairman of the Taiwan Society of Pediatric Pulmonology and Critical Care Medicine.
While the hospital was determining the root cause of the boy's illness, he admitted to having smoked e-cigarettes since he was 11 and said his parents never noticed he smokes, the doctor said.
Vaping poses the risk of addiction and can harm the developing brains of youths and young adults. They appeal to teens because the electronic devices do not have the same pungent odor as traditional cigarettes and oftentimes different flavorings are added to them, the doctor explained.
Highlighting the harmful effects of vaping, Lue said the chemical composition of vape juice is more complex than that of regular cigarettes, and secondhand e-cigarette aerosol is as harmful as that caused by traditional cigarettes.
Nicotine, the main agent in e-cigarettes is highly addictive, the doctor warned, adding that other chemicals in vape juice including formaldehyde, acetaldehyde, propylene glycol, and diethylene glycol, which can damage the skin, liver, and kidneys.
A comprehensive ban on vaping and e-cigarettes is currently being considered by the Executive Yuan.