Tainan company to donate face mask production system to Czech Republic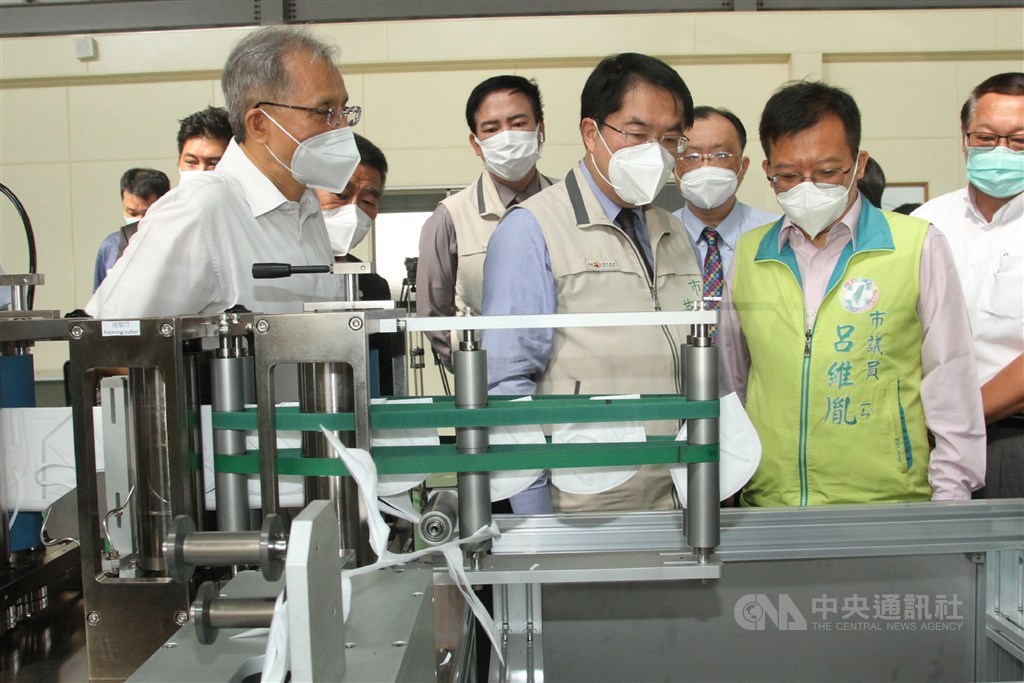 Tainan, Sept. 15 (CNA) A Tainan-based automation equipment manufacturer said Tuesday it will donate a 3D surgical face mask production system to the Czech Republic, helping the European country combat the COVID-19 pandemic.
Autoland Technology Co., Ltd. General Manager Kuo Li-lin (郭立霖) said the system, which consists of five fully-automated high-end 3D mask production lines, will be jointly donated by his company and a group of machinery industry leaders in southern Taiwan.
The system, which costs NT$45 million (US$1.52 million), can produce 43,000 masks per day. It will be completed by the company and sent to the Czech Republic before the end of October, Kuo added.
Kuo said the decision to donate the equipment to the European country was made after a Czech delegation headed by Senate President Miloš Vystrčil visited Taiwan earlier this month.
He and other machinery industry leaders were touched by the high-level visit despite the lack of official diplomatic ties between the two countries and began to think of concrete ways to help the European country.
After the system is sent to the Czech Republic, Kuo said his company will send technicians to help assemble it. The company will also offer online technical support for the future operation of the production lines, he added.
Meanwhile, Tainan Mayor Huang Wei-che (黃偉哲), who visited the company Tuesday, praised the donation as a perfect example of how Taiwan companies are willing to offer humanitarian assistance to others and a model for "people-to-people diplomacy."
Huang told reporters that Vystrčil's recent trip represents a diplomatic breakthrough for Taiwan and has significantly enhanced bilateral exchanges between Taiwan and the Czech Republic.
The European country is known for its strong industrial tradition while Taiwan's face mask production skills are world renowned, Huang said, adding that he hopes the donation will help encourage closer collaboration between the two countries.
The face masks produced by the Taiwan-donated system are scheduled to be used by frontline healthcare workers in the Czech Republic, he added.
Vystrčil, the highest-level Czech official to ever visit Taiwan, led a 89-member delegation, which included eight Czech senators and Prague Mayor Zdeněk Hřib, from Aug. 30 to Sept. 4.
The landmark trip came amid strong condemnation from China, which sees Taiwan as part of its territory, to be reunited with one day and opposes any official contact that could be seen as elevating Taiwan's status to that of an independent nation.
During their six-day stay, representatives of the Czech Republic's political, business, scientific and cultural sectors, helped enhance relations with their Taiwanese counterparts in many areas, including signing three memorandums of understanding (MOUs) with local companies.