Coral bleaching in Taiwan waters worst in 22 years: Greenpeace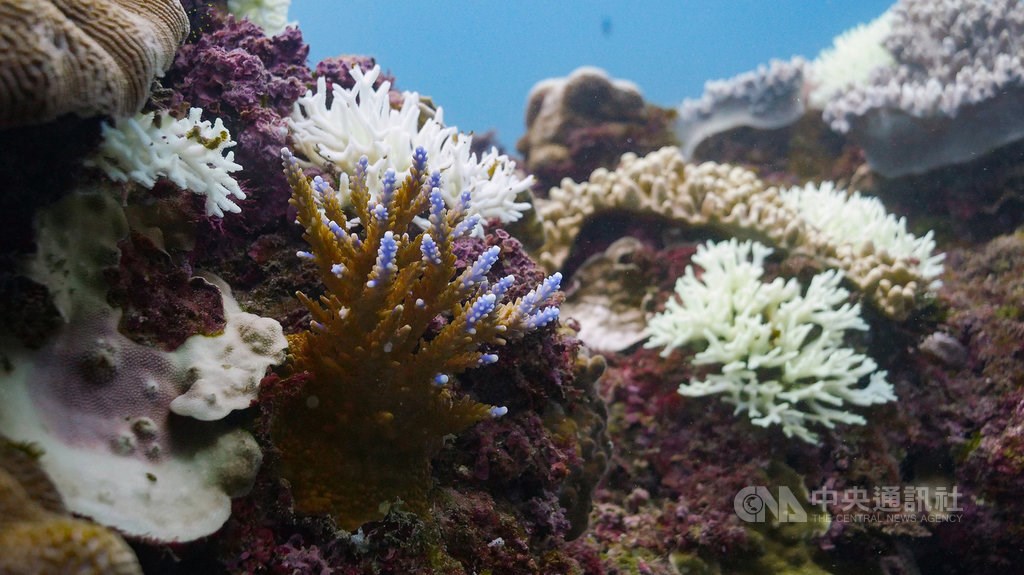 Taipei, Sept. 10 (CNA) The coral reefs in waters around Taiwan have suffered the worst bleaching in 2020 since the last big El Niño event 22 years ago, the international environmental organization Greenpeace said Thursday.
In a press release, Greenpeace said the United States' National Oceanic and Atmospheric Administration (NOAA) in July and August raised the coral bleaching heat stress alert for areas in northern and southern Taiwan from Level 1 to Level 2, the highest in its five-tier system.
According to the NOAA, Level 1 indicates "Significant Bleaching Likely," while Level 2 means "Severe Bleaching and Significant Mortality Likely," while the lower alerts are "No Stress," "Watch" and "Warning."
Large-scale bleaching was observed at three different diving sites in Kenting National Park from Aug. 17-19, the worst seen in Taiwan since 1998, Greenpeace project director Lena Chang (張皪心) said.
According to the U.S.-based nonprofit organization Climate Central, an especially intense El Niño event occurred that year, causing an estimated 16 percent of the world's reef systems to die.
Chang noted that Taiwan has been affected by few typhoons this year, as a result of high pressure systems in the Pacific, which she said may have contributed to higher land and sea temperatures in and around Taiwan.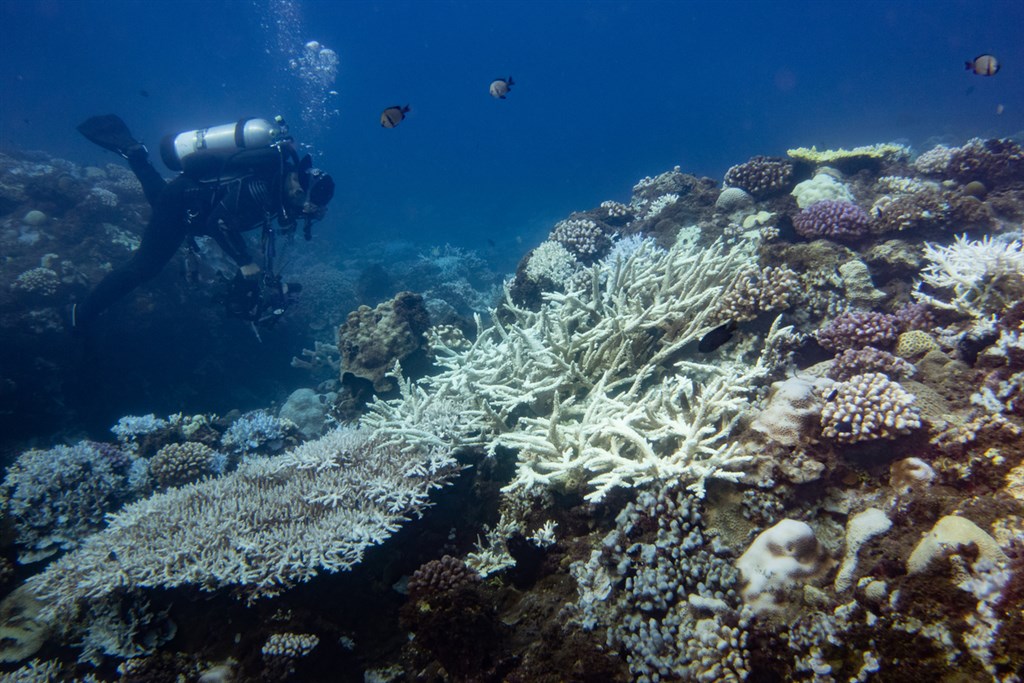 The temperature of the sea near Dongsha atoll and Taiping Island climbed above 30 degrees Celsius, while in the waters off Kenting in southern Taiwan it was 28-31 degrees at depths of 5-18 meters, Chang said.
At those temperatures, coral bleaching occurs, and the coral can also die, she said.
The optimal temperature for coral growth is 20-28 degrees, while for bleaching it is below 18 degrees or above 30 degrees, Chang said.
Coral reefs would decline by 70-90 percent with global warming of 1.5 degrees Celsius and would all be lost if global warming hit 2 degrees, Chang said, citing the Intergovernmental Panel on Climate Change (IPCC).
On Thursday, Greenpeace called on Taiwan's government to declare a "climate emergency" in response to the increasingly serious climate change.
In addition, to address the climate crisis, the Taiwan government should set stricter carbon reduction targets, in accordance with the Paris Climate Agreement, Greenpeace said.
It also advised that the central and local governments pursue energy transformation and reduced carbon emissions so as to control ocean temperatures and preserve the corals reefs.