CORONAVIRUS
/
Taiwan reports 7 new COVID-19 cases, including possible domestic case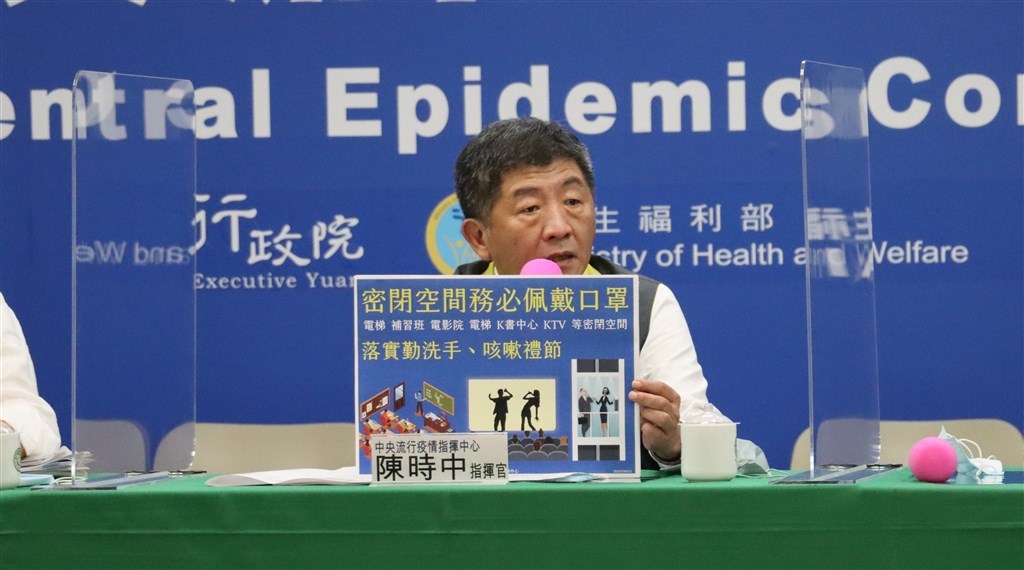 Update: Aug. 1-Taiwan reports 7 new COVID-19 cases, one case still a mystery
Taipei, Aug. 1 (CNA) Taiwan on Saturday confirmed seven new COVID-19 infections, including one that may have been transmitted domestically even if the Central Epidemic Command Center (CECC) is not yet willing to confirm it as a domestic case.
Of the seven cases, six were men aged between 20 and 80 who entered Taiwan from July 15 to 30 from the Philippines and Guatemala and apparently contracted the disease abroad, Health Minister Chen Shih-chung (陳時中), who also heads the CECC, said in Taipei.
The other case is a Belgian national, who entered Taiwan May 3 and was allowed to leave quarantine on May 17, Chen said.
A technician who was working in Changhua on an offshore wind project, the Belgian man tested positive Saturday after getting a test because he needed one to be allowed to return to his country of origin, Chen said.
The man tested positive twice in two PCR tests, with CT values of 34 and 33 that Chen described as a "weak positive" but that were still in the positive range for a disease considered to have an incubation period of 2-14 days.
Because the government saw the result as a "weak positive," it tested him for antibodies and found his IgM (the first antibody the body makes when it fights a new infection) to be negative and the IgG as "strongly positive," Chen said.
According to the U.S. Federal Drug Administration fact sheet dated June 12, 2020, IgG antibodies generally start appearing about 7-10 days after infection and often indicate a past infection.
Chen said the case has not yet been classified as an imported or domestic case because if his IgM is negative and IgG is positive, then he may have been infected a long time ago.
"So we will test all the people he had contact with by PCR and antibody testing to classify the case more accurately," Chen said.
The CECC is currently conducting contact tracing as the man visited areas in northern and central Taiwan, with 89 people identified, Chen said.
This is the most recent case in which the government has been reluctant to classify a case that was likely contracted in Taiwan as domestically transmitted.
The case of a Japanese student who tested positive in Japan in late June soon after leaving Taiwan has yet to be recognized as a domestic case, and the same is true for a Thai worker who tested positive in Thailand on July 25 four days after leaving Taiwan.
None of the over 300 people who the CECC identified as having come into contact with the Japanese student and Thai worker have tested positive for the virus.
The CECC has asked Thailand to retest the migrant worker for the disease and for antibodies but has not received a response.
Taiwan has not reported a domestically transmitted case since April 12.
As for the six imported cases, one was a Guatemalan national in his 50s who tested negative three days prior to entering Taiwan on July 26, suffered a sore throat while in quarantine in a hotel, and a test done on July 30 came back positive Saturday, said CECC spokesman Chuang Jen-hsiang (莊人祥).
Another case was a Filipino man who flew from the Philippines to Hong Kong on July 18 and boarded a vessel that set sail for Taiwan that docked in Taiwan on July 30.
He was quarantined on the vessel in a cabin by himself starting July 20 after learning that a COVID-19 test he took in Hong Kong came back positive. He was tested again in Taiwan after arriving, with the results also positive, but he was asymptomatic.
Meanwhile, a Taiwanese national in his 70s who returned to Taiwan on July 28 after being in the Philippines since January 8 on business tested positive in a hospital isolation room while receiving treatment for suspected symptoms of COVID-19, Chuang said.
He had originally tested negative when he entered Taiwan after developing a cough and diarrhea before leaving the Philippines, Chuang said.
Another Taiwanese national in his 60s, who returned to Taiwan Thursday after being in the Philippines since Feb. 22, tested positive Saturday upon arrival, Chuang said. The man had experienced fatigue, diarrhea and a cough since July 28.
Also, a Filipino migrant worker in his 40s who entered Taiwan on July 15 was tested July 29 after coming down with diarrhea while in quarantine on July 27, and his results came back positive Saturday, Chuang said.
The remaining case, a Taiwanese in his 20s, returned to Taiwan July 24 after traveling to the Philippines on May 29 for work reasons, Chuang said.
He was sent for testing on July 29 after he experienced a fever, fatigue, a headache, and nasal congestion, Chuang said. The man took the same July 15 flight to Taiwan as a woman in her 20s, who was confirmed to have COVID-19 on July 17, according to the CECC.
Of the 474 cases recorded in the country since the outbreak began late last year, 382 have been classified as imported, 55 as locally acquired, and 36 as a cluster infection on board a naval ship, an outbreak that was later confirmed to have originated in Taiwan.
Globally, COVID-19 has infected 17,560,314 people in 187 countries and regions, with a total of 679,505 fatalities, according to CECC statistics as of Saturday.
View All