Taiwan fact-checking group wins award for debunking vote rigging claim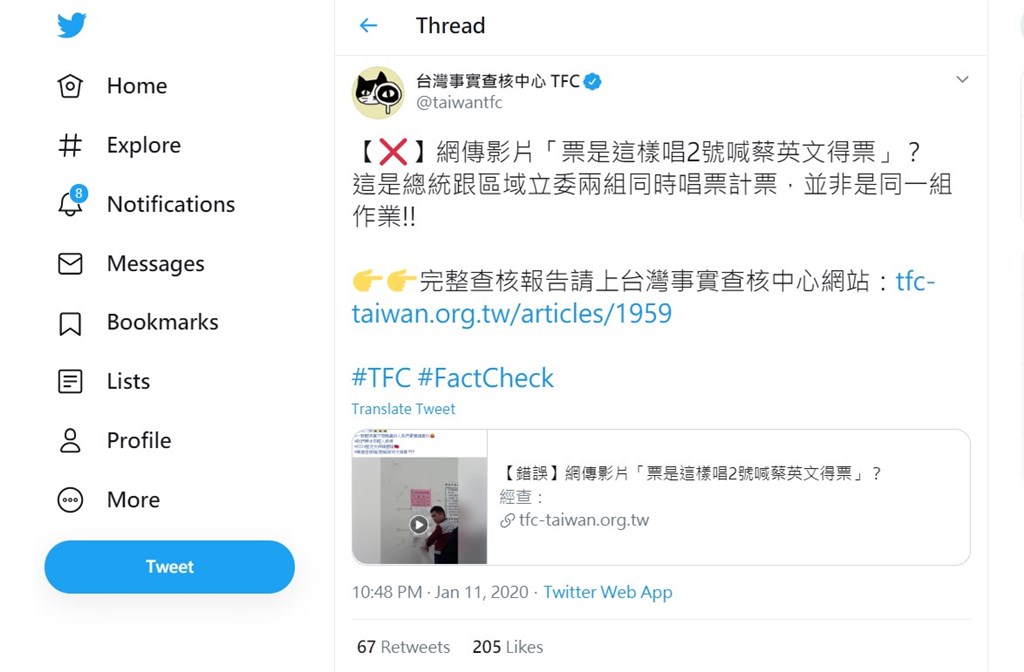 Taipei, June 27 (CNA) The non-profit Taiwan FactCheck Center received a global fact-checking award Friday for debunking a video that falsely claimed to show vote rigging taking place during Taiwan's national elections in January.
The fact-check won the "Best correction achieved" award in the annual Global Fact Awards program, which is hosted by the Poynter Institute for Media Studies' International Fact-Checking Network (IFCN).
In the award citation, the IFCN noted that some in Taiwan feared China would try to interfere in the elections, and credited Taiwan FactCheck Center for its quick work to debunk the vote rigging claim on election night.
Fact-checkers reviewed the video, which "supposedly showed a man messing with a tallying system, and discovered he was simply tallying the votes being read out by a woman off screen," the citation said.
"This fact-check was quickly reported by Taiwanese media, which calmed tensions over potential election interference," it said.
In the video in question, a worker at a polling station calls votes for "No. 2" -- apparently referring to opposition Kuomintang (KMT) nominee Han Kuo-yu's (韓國瑜) number on the presidential ballot -- while a man tallies votes for President Tsai Ing-wen (蔡英文).
However, Taiwan FactCheck Center found three pieces of evidence that showed the two were counting votes for different races.
For example, it noted that the vote counter can also be heard calling "No. 4," though there were only three candidates on the presidential ballot, and therefore concluded that she was counting a legislative race.
Taiwan FactCheck Center's review of the video, which it posted at 10:30 p.m. on election night, was liked over 5,000 times and shared more than 1,200 times on Facebook.
The fact-check received a total of 660 votes from the public and recommendations from five international fact-checking organizations, according to IFCN.
Taiwan FactCheck Center was jointly founded by the Association for Quality Journalism and Taiwan Media Watch to conduct fact checks on information related to public affairs. It is based in Taipei.