10 injured, 6 still trapped at bridge collapse site in Yilan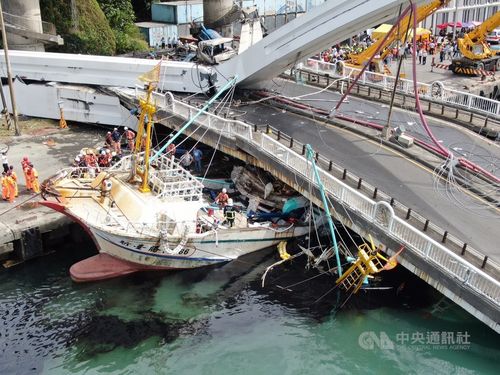 Taipei, Oct. 1 (CNA) At least 10 people have been injured, including six severely wounded, and six others remain trapped after a bridge in Yilan County collapsed Tuesday, according to the latest data released by the National Fire Agency (NFA).
The Coast Guard Administration (CGA) has deployed a team to the scene of the bridge collapse in the port town of Nanfang'ao to rescue the individuals still trapped under the fallen structure.
When the landmark arch bridge hovering above the entry to the port suddenly ruptured and fell to the ground at around 9:30 a.m., it squashed three fishing boats, and an oil tanker truck just about to exit the bridge at the time fell to the ground and caught fire.
The fire was extinguished shortly after, and the driver was rescued.
According to NFA data, all of those injured are foreign nationals except for the Taiwanese driver of the oil tanker.
The injured foreigners -- six from the Philippines and three from Indonesia -- were workers on the fishing boats caught in the accident.
Rescuers remain at the scene trying to get out the remaining individuals still trapped there.
CGA officials said the agency has dispatched three ships to the scene and deployed 66 people to the rescue mission. It has also set up an emergency response center to deal with any issues that emerge.
Meanwhile, a Black Hawk helicopter operated by the Ministry of National Defense took off from Songshan Airport in Taipei at 11 a.m. to take over air surveillance over the site that had been done earlier by an NA101 chopper of the National Airborne Service Corps, the NFA said.
Aside from attempting to rescue those trapped, authorities are now trying to determine the cause of the collapse.
Initial information received by the Ministry of Transportation and Communications indicates that a collapse of the bridge piers led to the fall.
Transportation officials said it was not yet possible to determine if a magnitude 3.8 earthquake that occurred at 1:45 a.m. Tuesday in seas off Hualien County and registered an intensity of 4 in nearby Nan'ao in Yilan had anything to do with the incident.
The landmark bridge, completed in 1999, is the only single steel arch bridge in Taiwan and was the first bifurcated single arch bridge in Asia.
One-hundred and forty meters long and 15 meters wide, the bridge sits across a waterway in the Nanfang'ao fishing port and was high enough to allow larger fishing boats to pass underneath.