Nanfang'ao Bridge in Yilan collapses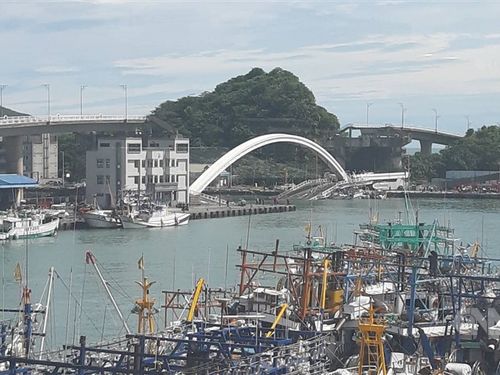 Taipei, Oct. 1 (CNA) Nanfang'ao Bridge in Yilan County collapsed Tuesday morning, and local authorities have launched response measures, the Su'ao District Fishermen's Association has said.
CCTV footage courtesy of Coast Guard Administration
The incident occurred at around 9:30 a.m., with dense smoke seen discharged at the scene. Local firefighters and police said the collapsed bridge fell on three fishing boats.
An oil tanker truck, which was on the bridge at the time of its collapse, fell on the ground and caught fire.
Many people and fishing boat crew members were injured in the accident, but the exact number was not immediately available.
Su'ao Township chief Lee Ming-che (李明哲) told reporters that five people have been sent to hospitals and six crew members are still trapped under the bridge.
Aside from attempting to rescue those trapped members, authorities are now trying to determine the cause of the collapse.
The landmark bridge, completed in 1998, is the only single steel arch bridge in Taiwan and was the first bifurcated single arch bridge in Asia.
One-hundred and forty meters long and 15 meters wide, the bridge sits across a waterway in the Nanfang'ao fishing port and was high enough to allow larger fishing boats to pass underneath.
Courtesy of a member of the public
Courtesy of a member of the public
Image of the bridge from Su'ao Tourism before collapse