Pro-China party founder indicted for illegal political donations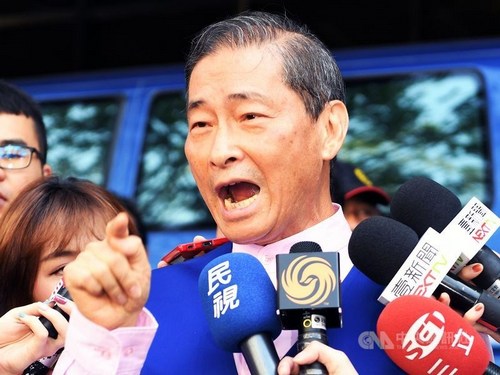 Taipei, Aug. 13 (CNA) Taipei prosecutors indicted six people Tuesday, including Chinese Unity Promotion Party (CUPP) founder Chang An-le (張安樂), his son Chang Wei (張瑋) and his son's wife, for allegedly violating the Political Donations Act.
Chang An-le, former CUPP Chairman Lee Hsin-yi (李新一) and a party worker allegedly received personal donations of nearly NT$2.1 million (US$67,800) after the party was founded in 2006 without setting up a specific bank account for political donation funds, according to prosecutors.
In addition, Chang Wei has been charged with document forgery and for violating the Company Act and the Business Entity Accounting Act for alleged involvement in irregular capital flow through a travel agency he established in November 2010, the prosecutors said.
Chang, his son and his wife were also indicted for alleged misappropriation of NT$13.9 million in funds from the travel agency from March 2014 to June 2016 and evasion of taxes, in violation of the Business Entity Accounting Act.
Chang, the party worker and current CUPP Chairman Chang Fu-tang (張馥堂) were also indicted for forgery because they failed to accurately report the financial records of the party.
Chang An-le, also known as the "White Wolf," is no stranger to investigation, as he was head of one of Taiwan's top criminal gangs, the Bamboo Union, and spent years in exile in China. He has recently billed himself as an avid advocate of unification with China.
An investigation into him on suspicion of developing organized crime in Taiwan and illegally collecting funds from China is still underway.
According to investigators, when Chang and his gang distributed 1,000 red envelopes containing cash of NT$10,000 each to victims in the wake of a magnitude 6.4 earthquake that rocked Hualien in February 2018, claiming lives and injuring many more, it was said the funding came from the Chinese government.
On Aug. 7, last year, investigators and prosecutors searched the home of Chang and the offices of his CUPP, where they seized documents and files used to determine the sources of the party's funds.
When questioned at that time, Chang denied allegations that the party had taken any funds from the Chinese authorities or the Communist Party of China, although he said he had used money he had made in China through investments and manufacturing.