NT$300 million in drugs seized by customs, police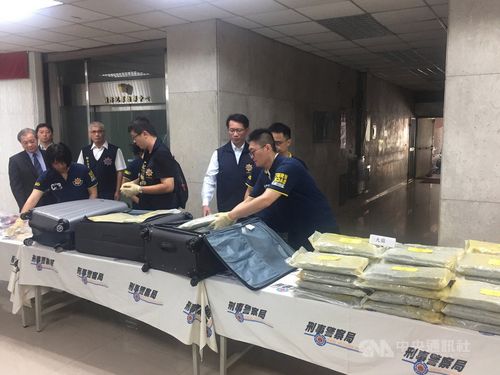 Taipei, Aug. 13 (CNA) More than 80 kilograms of illicit drugs with a market value of NT$300 million (US$9.56 million) were seized and 13 Taiwanese suspects arrested in recent joint customs, police operations against a suspected drug smuggling ring, the Criminal Investigation Bureau (CIB) announced Tuesday.
The confiscated drugs, including 68 kilograms of marijuana, and 14.5 kilograms of amphetamine, were seized in three separate actions on June. 1, Aug. 5 and Aug. 12, according to the CIB.
The CIB indicated that it believes the drugs were trafficked by the same ring led by a man surnamed Chen (陳), who was arrested along with a number of alleged gang members in a 4 a.m. raid on Monday in Linkou District, New Taipei.
According to the CIB, the seizures were made after receiving a tip in late May, which claimed the gang was using drug mules in exchange for money and free overseas travel.
Acting on the tip, CIB and police authorities arrested a suspect surnamed Kou (郭) at Taoyuan International Airport June 1 when he tried to smuggle 31 kilograms of marijuana into Taiwan from the United States in his luggage.
On Aug. 5, police arrested another three suspects at the airport returning from Canada, after 37 kilograms of marijuana was found in their luggage.
On Monday, two suspects surnamed Chang (張) and Hsu (許) were arrested after they tried to smuggle 14.5 kilograms of amphetamine from Thailand through the same airport.
The case is now being investigated by Taoyuan District Prosecutors.
Amphetamine is a Class I controlled drug, and under Taiwan's Narcotics Hazard Prevention Act, anyone found guilty of producing, transporting or selling Class I drugs faces the death penalty and a fine of up to NT$20 million.
Meanwhile, marijuana is a Class II controlled drug and anyone found guilty of producing, transporting or selling Class II drugs faces a life sentence and a fine of up to NT$10 million.