Heavy, extreme heavy rain alerts issued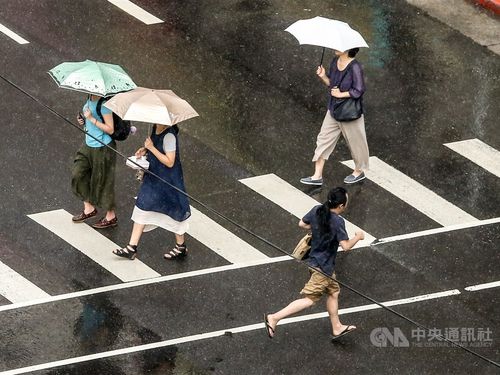 Taipei, July 18 (CNA) Taiwan's Central Weather Bureau (CWB) issued heavy rain or extreme heavy rain advisories for 15 cities and counties Thursday, citing Tropical Storm Danas' peripheral effects.
Heavy rain advisories were issued for New Taipei, Yilan County, Taoyuan City, Hsinchu County, Miaoli County, Taichung City, Hualien County, Nantou County, Yunlin County and Taitung County, while an extreme heavy rain advisory was issued for Chiayi County, Chiayi City, Tainan City, Kaohsiung City, Taitung County and Pingtung County, according to the weather bureau.
In addition, the CWB issued a heavy rain advisory for mountainous areas of eastern, southern and northern Taiwan, and an extreme heavy rain advisory for Orchid Island, which lies off the coast of eastern Taiwan's Taitung County.
Under the bureau's definition, heavy rain means accumulated rainfall of 80 millimeters or more within 24 hours, or rainfall of 40 mm or more per hour, while extreme heavy rain is defined as accumulated rainfall of 200 mm or more within 24 hours.
The Directorate General of Highways urged motorists Thursday to exercise maximum caution against heavy rain when traveling on Provincial Highway 9's Su-Hua section, the South Link Highway, the Tung Fu section of Provincial Highway 23 and the Wu Tai section of Provincial Highway 24.
Daytime high temperatures were expected to reach 31-33 degrees Celsius Thursday, with rough waves forecast in coastal areas of south, southeastern and northern Taiwan, the bureau said.
As of 8 a.m. Thursday, the tropical storm was located 330 kilometers east-northeast of Taiwan's southernmost tip, moving northward at a speed of 27 kilometers per hour, and was expected to quickly pass east of Taiwan later in the day, according to the CWB.
Danas will be 470 km northeast of Taipei at 8 a.m. Friday, the bureau said.
However, another low pressure system off the west coast of the Philippines' Luzon Island has intensified and is moving toward Taiwan, bringing rainfall to the nation's central and southern regions from Thursday evening to Friday, the CWB said.