Taiwan's coastline surrounded by 12 million liters of marine debris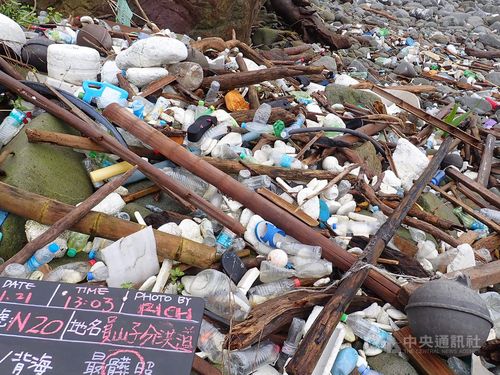 Taipei, July 11 (CNA) Approximately 12 million liters of marine debris is piled up on Taiwan's coastline, according to the results of an inspection released Thursday.
Environmental groups Greenpeace and the Society of Wilderness led four so called "quick screening" investigations over the past year to measure the degree of marine litter pollution along Taiwan's coastline.
The inspections were carried out by 49 investigators who were trained to estimate the amount of litter and pollution with the naked eye, and with the help of photos and big data.
A total of 121 monitoring stations were set up, covering 1,210 kilometers of coastline, with each of the stations in charge of litter-monitoring for a 100-meter stretch, according to Greenpeace.
The report found there was 12 million liters of marine litter with a total weight of 646 tons.
According to the report, 65 percent of the litter was accumulated on the northern, northwestern and northeastern coastlines, with the coastline in New Taipei's Ruifang District the worst affected.
According to the report, plastic bottles were the most commonly seen trash, followed by plastic foam and discarded fishing nets.
Greenpeace urged the government to clean up the country's coastline by enacting laws and a set of standards dedicated to managing marine debris and pollution.
Greenpeace Taiwan oceans campaigner Yen Ning (顏寧) also called on the country's citizens to reduce waste.
"Take PET bottles for example, although 96 percent of the bottles are recycled in Taiwan, if 6 billion PET bottles are consumed each year, the number of bottles that are not recycled could still reach 200-300 million each year," Yen said.
"Those bottles could still easily end up along the coastline," she said.
On average, around 10,000 liters of marine waste is washed up on every kilometer of Taiwan's coastline, which is around twice the amount of that in neighboring Japan and South Korea.