Taiwan welcomes resumption of Russian flights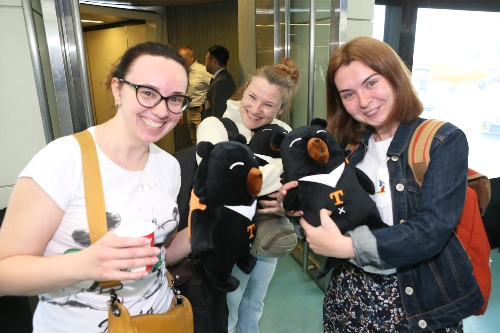 Taipei, May 26 (CNA) Taiwan on Saturday welcomed the arrival of Russian airline Royal Flight at its main airport, which meant a resumption of direct flights between the two countries after a three-year suspension.
When the flight touched down at around 3 p.m. at Taiwan Taoyuan International Airport, Vice Minister of Foreign Affairs Miguel Tsao (曹立傑) was waiting at the arrival gate to welcome all the passengers and to present them with souvenirs, according to a press release from his ministry.
Royal Flight will operate one direct service per week between Taoyuan and Moscow, which will take 10.5 hours each way, using its Boeing 767-300 aircraft that seats about 300 passengers, according to the Civil Aviation Administration (CAA).
(Photo courtesy of MOFA)
Due to financial difficulties, direct flights between the two countries were suspended in late 2015, less than two years after they were launched by Transaero Airlines of Russia in cooperation with China Airlines, one of Taiwan's leading international carriers.
The foreign ministry said the decision by Royal Flight to start a direct service between the two countries could be attributed to the implementation of a policy by Taiwan last September to grant visa-free entry to Russian passport holders for stays of up to 14 days.
Since the visa waiver policy took effect, there has been a 65 percent increase from a year earlier in the number of Russian travelers to Taiwan, the ministry said.
The visa waiver policy has been implemented for a trial period until July 31, after which it will be reviewed for possible extension, according to the foreign ministry.
Currently, the visa-free privilege is not reciprocal, which means Taiwanese citizens still need to obtain a visa for travel to Russia.