National identity taking shape in Taiwan: study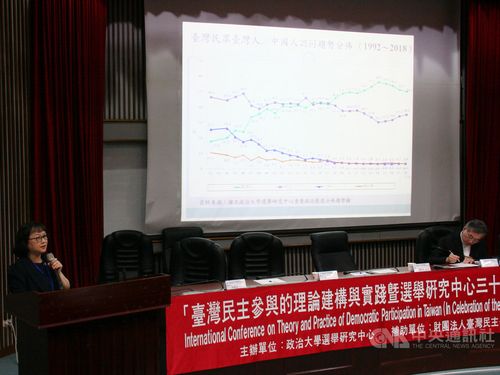 Taipei, May 25 (CNA) The idea of Taiwan as a country is taking shape but there is no agreement on the cultural and political identities of the people, according to a recent study conducted by National Chengchi University.
The findings of the qualitative study on how Taiwanese identify themselves culturally and politically and on the changes over the years were released Saturday by Cheng Su-feng (鄭夙芬), a research fellow at the university's Election Study Center.
Based on 113 interview transcripts from eight previous studies between 2000 and 2016, Cheng said, it is clear that a national identity is emerging in Taiwan.
The majority of people in Taiwan define being Taiwanese as having a sense of belonging, which is a key indicator of identity formation, the study shows.
Other definitions include being born and living in Taiwan, having Taiwanese nationality, having made a contribution to the country, and belonging to one of the four major ethnic groups in Taiwan -- the Minnan, Hakka, mainlanders and indigenous people, the study found.
Cheng said the view that "Taiwan and China are different countries" began gaining ground in 2009 and has been growing, as more and more Taiwanese are identifying their country as the Republic of China, or Taiwan.
She said, however, that while some Taiwanese differentiate themselves from the Chinese people based on cultural differences, others embrace blood relationship and shared cultural heritage with mainland China.
Even though an increasing number of Taiwanese are taking the view that Taiwan is an independent country, some still see the island as part of China, Cheng said.
In summary, there is still no clear collective national identity in Taiwan, although some progress has been made, she said.