Taiwanese singer to spread environmental awareness at marathon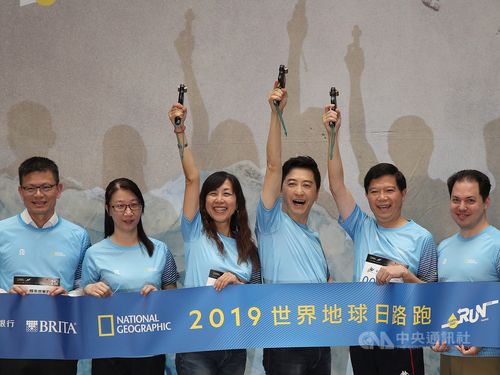 Taipei, April 22 (CNA) Taiwanese singer and television host Harlem Yu (庾澄慶) is to help spread awareness of environmental protection at a marathon set to take place in Taipei April 28 in recognition of Earth Day, which is observed April 22 around the world.
Yu, acting as the environmental protection ambassador for the event, organized by National Geographic, will not only fire the starting pistol but will also run in the four-kilometer division of the event.
At a press conference Monday, Yu said that he began to become fully environmentally conscious in his daily life after a trip to Bangladesh, where he witnessed the hardships of the residents there.
Giving examples of his contributions to environmental protection, Yu said that "when I go out to buy things, I bring my own bag and I also bring my own water bottle."
"Even when I buy coffee, I have my own container, which allows me to save NT$10 (US$0.32) (at some stores)," Yu said, adding that the habit can promote an environmentally friendly lifestyle by reducing the use of disposable plastic products.
Taiwanese singer and television host Harlem Yu (庾澄慶)
It is the seventh year National Geographic has organized runs to mark Earth Day and the theme of this year's event is "Planet or Plastic?"
The event is also held on various dates in China, Malaysia and the Philippines.
The Taiwan edition of the event will feature 21-km, 9-km and 4-km runs, according to the National Geographic Earth Day Run 2019 website.
In addition to Yu, other celebrities who will attend the event include television host Mickey Huang (黃子佼) and singers Judy Chou (周定緯) and Cindy Yen (袁詠琳).