Dead pig found on beach in Kinmen confirmed infected with ASF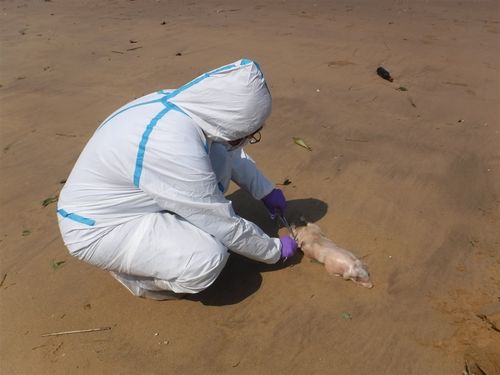 Taipei, March 14 (CNA) Test results conducted on a pig carcass discovered on a beach in the offshore county of Kinmen a day earlier came back positive for African swine fever (ASF), according to Taiwan's Central Emergency Operation Center for ASF Thursday.
Samples taken from the carcass were found to contain sequences of gene fragments 100 percent identical to those of the ASF virus strain in China, the center said.
This is the third ASF case detected in pig carcasses washed ashore in Taiwan's offshore islands.
In the latest case, the carcass was found on a beach in Kinmen's Lieyu Township, approximately six kilometers from the Chinese city of Xiamen and close to the Jiulong River estuary in China, the center said in a statement.
As of press time, no abnormalities have been found in the eight pig farms in the township that are being monitored by Kinmen County government, the center said, adding that related vehicles and equipment have been disinfected.
Meanwhile, a package of dried pork jerky produced in China also tested positive Thursday for ASF, bringing the total number of such cases to 32, the center said.
Photo courtesy of the Bureau of Animal and Plant Health Inspection and Quarantine
The package, which originated in the city of Linyi in the south of China's Shandong Province, was found discarded earlier this month at Kaohsiung International Airport by a passenger who is believed to have disembarked from a Far Eastern Air Transport flight from Fuzhou in China's Fujian Province, the center said.
Since October 2018, a total of 32 pork products from China have been confirmed as infected with ASF -- one in October, two in November, four in December, 11 in January, 11 in February and three in March, according to the center.
As of March 8, 112 outbreaks had been reported in 28 Chinese provinces, autonomous regions and municipalities, with more than 950,000 pigs culled, according to data published on the website of the Food and Agriculture Organization of the United Nations.
China confirmed its first ASF outbreak in Liaoning Province on Aug. 3, 2018, the website said.
Taiwan is on high alert, concerned that the spread of the virus from China could hit its pig farming industry, which is worth NT$80 billion (US$2.59 billion) per year.
Although ASF does not affect humans, the virus is deadly to pigs and there is no known cure or vaccine.