Kansai-themed train runs in Taiwan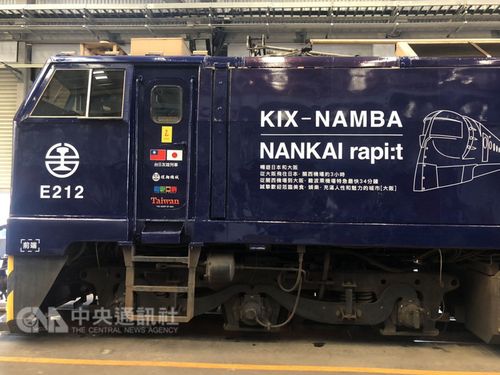 Taipei, Jan. 12 (CNA) Kansai-area themed trains "Blue Warrior" and "Japan-Taiwan Friendship" will be unveiled in Taiwan on Jan. 14, showcasing the cordial relations between Japan and Taiwan, Taiwan Railways Administration (TRA) announced Saturday.
"Blue Warrior" and "Japan-Taiwan Friendship" are scheduled to run on Taiwan's western line between Qidu (七堵) in Keelung and Chaozhou (潮州) in Pingtung County, from Jan. 16 and Jan. 17 respectively, for a period of 6 months, with some services to Taitung, said TRA.
According to TRA, this is the first time trains in Taiwan have been decorated with "Rapi:tldier", a superhero character created by Nankai Electric Railway and other Kansai related features.
People can use these eye catching trains to travel or head home for the Lunar New Year, which falls on Feb. 5 this year, TRA added.
Painted with "Nankai blue" paint which was shipped from Japan, the two trains make passengers feel as if they are in Osaka, a large port city in the Kansai region, TRA said.
Nankai Electric Railway is a private railway in Japan, the name Nankai, which translates as "South Sea," is inspired by the company's routes along the Nankaido, close to the old highway that ran south from the ancient capital of Kyoto, along the coast.