Flu claimed 5 more lives last week: CDC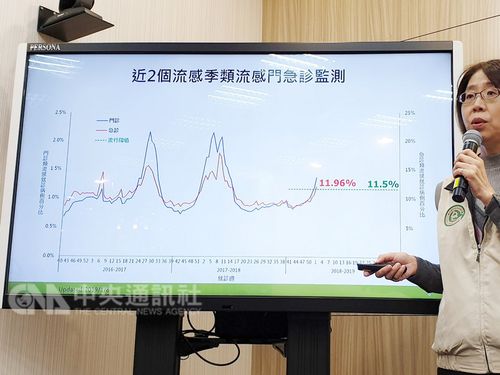 Taipei, Jan. 8 (CNA) Five people died of seasonal influenza in Taiwan last week, bringing the death toll since October 2018 to 18, as the flu outbreak continues to spread, the Centers for Disease Control (CDC) said Tuesday.
All five suffered from chronic diseases and had not received a flu vaccination, according to CDC physician Lin Yung-ching (林詠青).
In the week ending Jan. 5, a total of 76,562 people sought outpatient and emergency treatment for flu-like symptoms at hospitals and clinics in Taiwan, compared with 74,470 people the week before, the CDC data shows.
During the most recent week for which figures are available, 24 patients developed serious flu complications, including 15 cases of H1N1, said Liu Ting-ping (劉定萍), director of the CDC Epidemic Intelligence Center.
Of the five fatalities, three contracted H3N2 and two contracted H1N1 , Liu said.
Since Oct. 1, the total number of severe flu cases reported around Taiwan has climbed to 188 and the predominant flu strains have been H3N2 (55 percent) and H1N1 (36 percent), Liu said. Of the 18 fatalities, 11 contracted H3N2 and seven contracted H1N1.
This season's flu outbreak has reached epidemic levels and is expected to peak around the Chinese New Year holiday, CDC Deputy Director General Lo Yi-chun (羅一鈞) said.
In Taiwan, the flu season typically starts in October, escalates around November and peaks by the end of the year or around the Lunar New Year, which typically falls in late January to mid-February, according to the CDC.
According to CDC statistics, 93,000 doses of 0.5 mL flu vaccine and 39,000 doses of 0.25mL remain since the CDC launched its annual free flu vaccination program on Oct. 15, 2018, with the doses sufficient for 1-2 weeks.