Demolition work on controversial temple in Changhua begins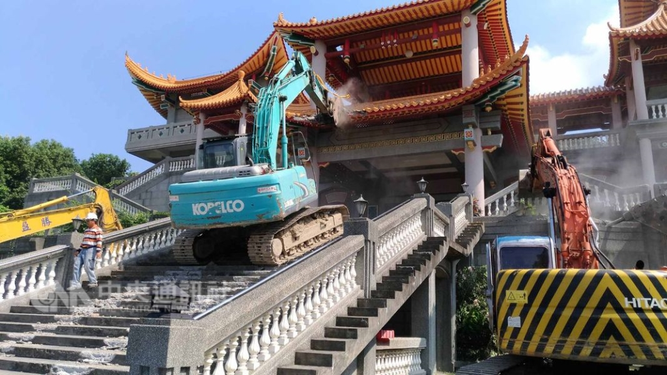 Taipei, Sept. 26 (CNA) The dismantling of a controversial temple in Changhua County deemed to include illegal structures began Wednesday after the county was embarrassed by a New York Times feature describing the temple's allegiance to Beijing.
At 10 a.m. Wednesday, 14 heavy-duty bulldozers sent to the scene began razing illegal structures connected to the main front hall and left and right compartments of the rear hall, all of which were considered to have been built illegally on land zoned for farming.
Deputy County Magistrate Lin Ming-yu (林明裕), who is overseeing the demolition, estimated it will take seven days and cost NT$5 million (US$16.31 million) to tear down all of the complex's illegal structures.
Many of those structures were built in the past eight years after retired military officer Wei Ming-jen (魏明仁) took over the 100-year-old former Biyun Temple, covering about 5,600 square meters in the county's Erlin Township.
In 2012, he evicted the nuns who lived on the premises after allegedly duping them into accruing big debts they were unable to repay, giving rise to a legal dispute between Wei and the nuns that was not settled before Wednesday's demolition began.
After Wei evicted the nuns, he began turning the temple into a Chinese Communist shrine and described it as a Taiwan base promoting the People's Republic of China's socialism, nationalism and patriotism.
The county had previously pledged not to tear down the illegal structures until after the legal dispute between the nuns and Wei was settled, but that changed when the temple was featured in a New York Times report published on Sept. 20.
The report, which described how Wei had removed Buddhist statues and symbols and replaced them with portraits of the founding leaders of the Chinese Communist Party, put the temple in the public eye and sparked controversy, leading Changhua County Magistrate Wei Ming-ku (魏明谷) to take action.
Wei Ming-ku ordered that the water and power supply to part of the temple complex be cut off in preparation for the demolition of the illegal structures.
The owner of the temple resisted by throwing a punch at a county official who brought workers into the complex to cut off its water and power, and he was arrested for obstructing public law enforcement.
On Wednesday, about 600 security guards and police officers were mobilized to maintain order at the site to ensure public safety while the demolition was underway, Lin said.