Northern Taiwan cities prepare for approaching super typhoon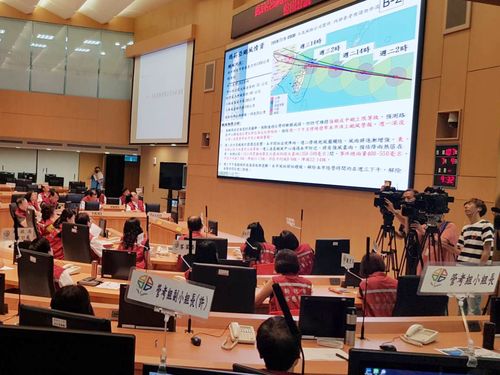 Taipei, July 9 (CNA) The three metropolitan areas in northern Taiwan expected to bear the brunt of Super Typhoon Maria were busy preparing for the storm Monday, taking all necessary precautions.
Taipei authorities said trees along city streets were being trimmed to prevent branches from being blown free and injuring motorists and pedestrians.
They also urged people not to park cars next to big trees or under large signboards to reduce the risk of damage to their vehicles.
In New Taipei, which completely surrounds Taipei and covers most of northern Taiwan, Deputy Mayor Lee Ssu-chuan (李四川) instructed relevant units to check all 82 water pumping stations around the city to ensure they will function normally when the storm hits.
Lee also ordered the inspection of ongoing construction projects along rivers and the testing of communication equipment and facilities, while also directing that signboards, trees along city streets and scaffolds at construction sites be secured in place.
The city's Fire Department said a provisional ban will be imposed if necessary on people entering flood-prone seaside and riverbank areas in the metropolitan area.
Citing a WeatherRisk assessment, the department said Super Typhoon Maria could bring 400-550 millimeters of rain to New Taipei on Tuesday and Wednesday.
In Keelung, meanwhile, Mayor Lin Yu-chang (林右昌) ordered all relevant units and departments to be well prepared for possible typhoon damage, as the port city will likely be hit by the storm head on between Tuesday night and Wednesday morning.
Interior Minister Yeh Jiunn-rong (葉俊榮) hosted a pre-typhoon meeting at the Central Emergency Operation Center in Taipei earlier Monday.
At a press conference following the meeting, he reminded people that they should follow the government's precautionary evacuation measures if deemed necessary because of a high risk of flooding or landslides.
Also Monday, nearly 4,000 travelers were ferried back to Fugang Port in Taitung County from the outlying Green and Orchid Islands ahead of the typhoon's arrival.
Ferry services between the southeastern county on Taiwan proper and the islands on Tuesday and Wednesday have all been canceled.
As of 2:00 p.m., Super Typhoon Maria was 1,091 kilometers east-southeast of Taipei, moving at a speed of 31 kilometers per hour in a west-northwesterly direction, according to the latest update by the Central Weather Bureau.
The typhoon, which has a storm radius of 280 kilometers, is carrying maximum sustained winds of 198 kph, with gusts of up to 245 kph.
The weather bureau said the storm's periphery is approaching seas east of Taiwan and will pose a threat to marine activities in waters to Taiwan's north, northeast and southeast.
A sea warning was issued at 2:30 p.m. Monday.
(By Chen Yen-chun, Lin Shang-chun, Chiang Chun-liang, Huang Li-yun, Tyson Lu and Elizabeth Hsu)
enditem/ls