Sea warning for Super Typhoon Maria expected at 2 p.m.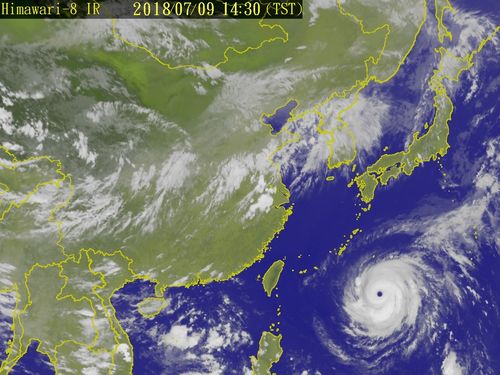 Taipei, July 9 (CNA) Taiwan's Central Weather Bureau (CWB) noted that following the increased speed of Super Typhoon Maria, it plans to issue a sea warning at 2 p.m. Monday, followed by a land warning between midnight and Tuesday morning.
The bureau forecast the impact of the typhoon on Taiwan will peak from Tuesday night to Wednesday morning.
As of 8 a.m., Maria was 1,280 kilometers east-southeast of Taipei, moving at a speed of 29 kilometers per hour in a west-northwesterly direction, according to the CWB's latest update.
The super typhoon, which has a storm radius of 280 kilometers, is carrying maximum sustained winds of 198 kph, with gusts of up to 245 kph.
The CWB said the typhoon has moved in a northerly direction, but will still pass north of Taiwan as forecast earlier.
The bureau did not not rule out the possibility that the typhoon will make landfall in Taiwan, but added that even if it does not, the impact will still be felt in the areas north of central Taiwan.
Given that the typhoon's periphery will not hit land until 18 hours after a land warning is issued, the CWB predicted the main impact will not be felt until Tuesday night. It also reminded people to take all necessary precautions.