Taiwan activates solar energy system on Dongsha Island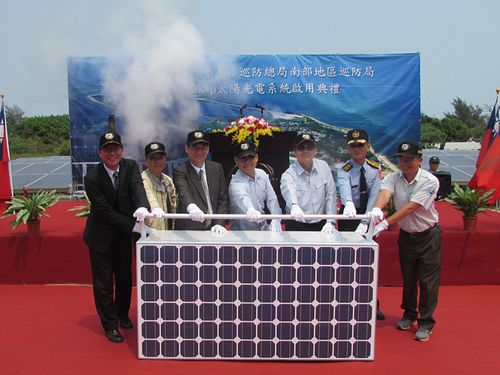 Taipei, March 17 (CNA) A solar energy system installed by Taiwan's Coast Guard Administration (CGA) on Dongsha Island (東沙島) in the disputed South China Sea went into operation during a ceremony Thursday.
Covering a total area of 310.6 square meters, the solar system will produce 53,200 kilowatt-hours of electricity each year, according to the CGA.
The CGA said that the system was built on Dongsha in response to the government's carbon reduction and energy conservation policy and highlights the government's commitment to making Dongsha a low-carbon island and its resolve to safeguard its national territory.
The initiation of the system is expected to reduce the annual amount of fuel used for diesel power generation by 15,000 liters and cut yearly carbon emissions by 400,000 metric tons, allowing the government to show the world its determination to cut carbon emissions, the CGA said.
Dongsha, one of the Pratas islands located 240 nautical miles southeast to Taiwan, is an atoll in the South China Sea.
Several countries, including Taiwan, China, the Philippines, Brunei, Malaysia and Vietnam, claim all or parts of the islets located in South China Sea.