Hundreds of snow chasers stuck in mountains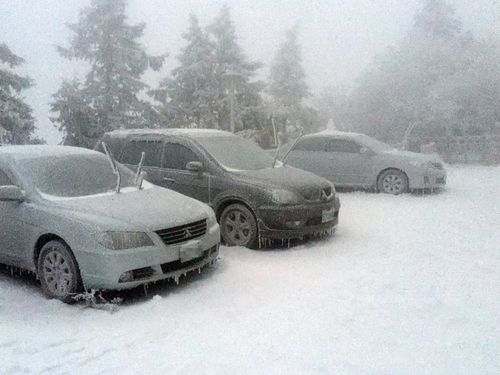 Taipei, Jan. 25 (CNA) Hundreds of people who visited mountain areas in Taiwan over the weekend to get a rare glimpse of snow remain trapped because of road closures caused by the snow, local authorities said Monday.
A total of 513 visitors to mountains in Hsinchu County were forced to spend an extra night at their destinations Sunday after roads were closed by 30 centimeters of snow, the Hengshan Police Precinct said.
Snow stopped falling early Monday but just over 10 cm of snow remained on the ground as of Monday afternoon, and police said the roads would not be reopened before all the snow is cleared.
Food and drinking water were airlifted to the mountain areas in Hsinchu on Monday morning.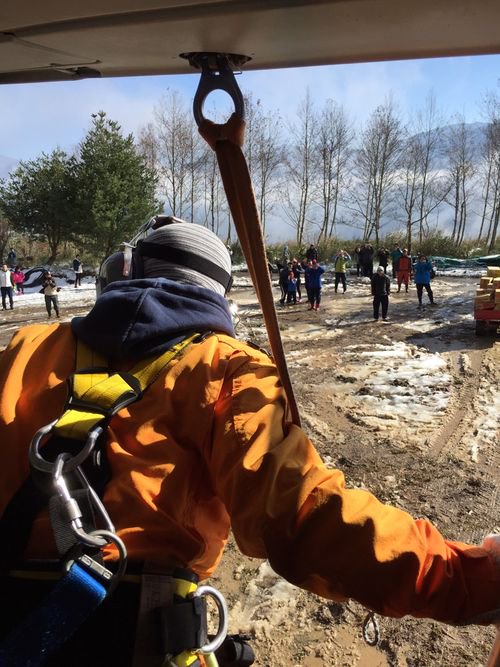 [The National Airborne Service Corps. delivers food and drinking water to trapped visitors. Photo courtesy of the Hsinchu County Fire Bureau]
In Taoyuan, the city government said a total of 344 visitors were stranded by snow as of Monday morning.
Fearing slippery road conditions as the snow melted, the city arranged free bus services along the No. 7 Provincial Highway to take people from the Baling area to the Fuxing District Office.
The city also closed four elementary schools in Fuxing District, the Lala Mountain Nature Protection Zone and an eco-park in Baling on Monday because of the snow.
[In Yilan's Guanwu. Photo courtesy of the Seventh Special Police Corps.]
The Luodong Forest District Office in Yilan County said 90 and 48 visitors were stuck in the Taipingshan and Guanwu forest recreation areas, respectively, as of Monday morning.
Food and accommodation was arranged by the office and local police for these visitors.
The office was trying to clear up to 10 cm of ice on roads to Taipingshan, while roads to Guanwu saw accumulations of more than 50 cm of snow.
[On the No. 14A Provincial Highway. Photo courtesy of the Hehuan police station]
Traffic to and from Hehuanshan in central Taiwan, one of the few places that regularly gets snow in Taiwan and has the only snow plow in the country, was not affected by the conditions, even though 20 cm of snow remained on the ground Monday morning.
However, cars must be fitted with snow chains to travel between the 18-kilometer and 41-km marks on the No. 14A Provincial Highway because of icy road conditions.
(By Bien Chen-feng, Lu Kang-chun, Lee Shien-feng and Kay Liu)enditem/ls