K.R.T. Girls bring in revenue for Kaohsiung metro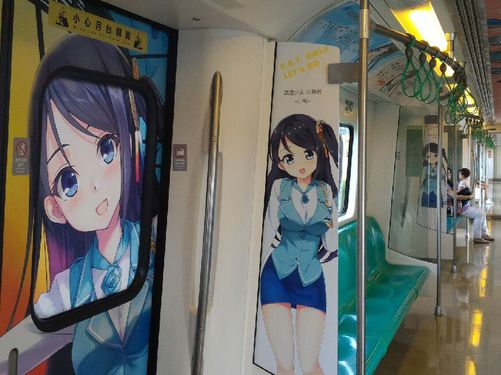 Taipei, Aug. 26 (CNA) The K.R.T. Girls, four fictional employees of Kaohsiung Rapid Transit Corp. (KRTC), have brought in revenue of NT$2 million (US$61,576) in the first seven months of the year and drawn interest from a local game firm and a Japanese publisher.
The four fictional female employees are station attendant Xiao Qiong (小穹), customer service employee Nana (耐耐), metro driver Emilia (艾米莉亞) and maintenance engineer Ann (婕兒).
They were created through of a joint initiative by KRTC and a team of animated artists in the southern city last November and used in a series of products to promote the subway system and drum up revenues.
Products such as shopping bags, backpacks, fans, postcards, bookmarks and badges with images of the four fictional women were designed and produced through cooperation between KRTC and the National Pingtung University of Science and Technology.
KRTC said sales of these products could reach NT$4 million this year, after bringing in revenues of NT$2 million from January to July.
[If you observe theft, upskirt photography, vandalism, or other abnormal behavior, please contact the service desk staff immediately. (From the KRTC website)]
A Kaohsiung metro train carriage decorated with the fictional characters is operating on the city's Orange Line until November 1, and has attracted several fans and cosplayers, including visitors from Japan.
The K.R.T. Girls have also drawn the interest of a local game company and Japanese publisher GA Bunko to adapt the characters to new products, said Shih Yao-cheng (石耀誠), head of the rapid transit company's public affairs department.
A serial light novel in Japanese with the K.R.T. Girls will be published online by GA Bunko beginning in September, and the light novel is scheduled to be published by the end of the year, Japanese media reported earlier this month.
The Kaohsiung subway system has two lines, the Orange and Red, and spans 42.7 kilometers and 37 stations.
[Clockwise from top left: Let passengers on the train exit first and mind the platform gap. / Don't lean against the doors. / When riding the escalator, please grip the handrail tightly and stand firmly on the steps. / Please make way for people with special needs such as senior citizens, pregnant women, parents with strollers, and travelers with large suitcases. (From the KRTC website)]