One in every five people in Taiwan has insomnia: survey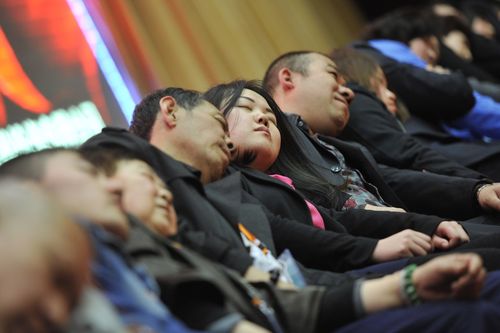 Taipei, March 27 (CNA) One in every five people in Taiwan has insomnia and the older one gets, the more likely one is to have problems sleeping, according to a survey done by the Taiwan Society of Sleep Medicine (台灣睡眠醫學學會).
Society president Lin Chia-mo (林嘉謨) said in presenting the survey's results on Friday that 20.2 percent of survey respondents had sleep disorders, including having trouble falling asleep, suffering from poor quality sleep, or waking up too early.
The results also found that the prevalence of insomnia rose the older the respondent.
But less than a quarter (23.5 percent) of respondents with insomnia said they used pills to help them sleep, because six out of every 10 of them (64.5 percent) said they harbored a negative impression of such pills.
More than 80 percent worried sleeping pills could be addictive (85.8 percent) or prove harmful to one's liver or kidneys (83 percent), more than two-thirds thought them harmful to people's cognitive functions (67.9 percent) and over half worried they'd feel groggy the day after taking them (57.5 percent).
Lin said that because of those concerns, 67.3 of respondents with insomnia opted for natural sleep remedies rather than medicine.
The survey also asked respondents about their use of electronic products before bed for the first time this year to see if any patterns existed.
It found that among respondents in the 20-49 age group, more than half of those with insomnia (53.3 percent) used electronic gadgets before going to sleep, compared with 47.6 percent of those not suffering from insomnia.
Lin said the narrow gap meant that no hard link can be established between the use of electronic devices and insomnia even if respondents felt the two were related.
He contended, however, that the use of electronic products and the blue light emitted from their screens could prove mentally stimulating, and he suggested that people refrain from using their devices for one hour before their planned bedtime.
Meanwhile, a pediatrician said Friday that nearly 50 percent of children in Taiwan do not go to bed early enough, a phenomenon that he worried could hamper their growth.
Chen Min-kung (陳敏恭) of Taichung Hospital said Taiwanese parents often send their children to night schools to learn new skills, meaning that many children return home and go to bed later than advisable.
He suggested that children go to bed no later than 10 p.m., noting that hormones that promote growth when people are asleep start secreting between 9 p.m. and 10 p.m.