Defense minister raises flag at new ministry compound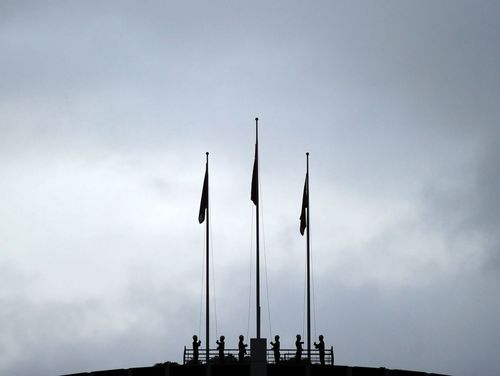 Taipei, Dec. 8 (CNA) Minister of National Defense Yen Ming led a flag-raising ceremony Monday to mark the rebasing of the Cabinet-level agency at its new compound in Taipei's Dazhi area following a delay of nearly two decades.
President Ma Ying-jeou is slated to attend an official ribbon-cutting ceremony for the new compound Dec. 27.
Along with the Air Force Command Headquarters, the Navy Command Headquarters and the Hengshan Military Command Center, the new Ministry of National Defense compound is the latest addition to the nation's armed forces facility in Dazhi.
Constructed at a cost of NT$15.8 billion (US$516.5 million), the sprawling 19.5-hectare complex houses office buildings, dormitories and other facilities including a post office, barber shops, a conference hall and a sports center to provide comprehensive services and amenities to the 3,000 military personnel stationed there.
Since the Republic of China government's relocation to Taiwan in 1949, the Defense Ministry has always relied on other military branches or the Presidential Office to house its offices. In order to ensure command effectiveness in both peace and war, plans to build a new compound in Dazhi began in 1997.
The ministry, however, explained that due to a variety of reasons ranging from the sudden death of the compound's original architect and the bankruptcy of the project's original contractor -- the now-defunct state-run RPTI International Ltd. -- the compound's construction has been delayed ever since.
The compound features a variety of eco-friendly features including stone walls and aluminum and low-emissivity glass exterior panels to help keep it cool in summer. To reduce peak-hour energy consumption, central air conditioning is provided by an ice storage system, where ice is produced at night to provide cooling during the day.
(By Claudia Liu and Ted Chen)ENDITEM/J