Protesters moving to legislative square after demands met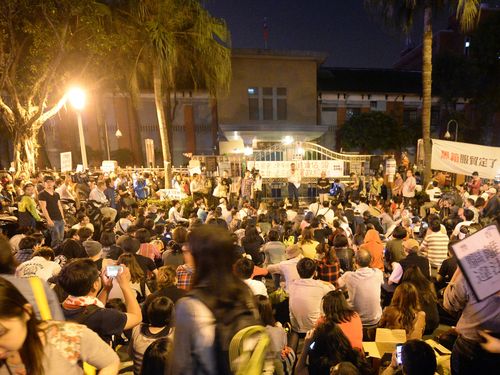 Taipei, April 11 (CNA) Most of the over 1,000 protesters began moving to the area outside the Legislature late Friday night after their demands were mostly met by a police precinct chief.
Unhappy with police's dispersion of protesters from outside the Legislative Yuan earlier in the day, the protesters besieged the Zhongzheng First Police Precinct at around 6 p.m., demanding precinct chief Fang Yang-ning apologize, and resign for reneging on his pledge to not forcibly disperse protesters from the square outside the Legislative Yuan.
They also asked the Fang to drop his decision to cancel previous demonstration permissions granted to members of the Alliance of Referendum for Taiwan (ART).
After two failed attempts to communicate with the protesters, Fang told the protesters at 10 p.m. that in addition to offering his apology, he has submitted an oral resignation, and promised to reconsider his earlier decision to deny ART permissions to demonstrate.
However, some of the demonstrators insisted on staying on the scene until Fang's resignation is approved by his superiors.
The latest flare-up occurred after student protesters vacated the Legislative Yuan's main chamber Thursday evening. They had occupied the venue for 24 days to protest against a trade-in-services agreement with China.
ART member Tsai Ting-kuei and others remained outside the Legislature overnight.
Fang said at around 2:30 a.m. Friday that he would not use heavy-handed methods to clear the area, but would not rule out using less coercive ways to get people to leave.
At 7 a.m., police began physically picking up demonstrators and moving them away from the square.
Tsai was reportedly injured during the process and was sent to the hospital, but Fang said Tsai's injury was his own fault rather than caused by the police.
Taipei Mayor Hau Lung-bin held a news conference Friday night in which he justified the police chief's actions as necessary to restore the normal function of the legislature.
He said that he will approve Fang's resignation only if he is found to have done something wrong in an investigation to be conducted by the city government.
Related stories:●April 11: Taipei mayor refuses police chief's offer to resign (update)●April 11: Face-to-face with protesters, precinct chief offers resignation●April 11: Protesters demonstrate outside police precinct in Taipei●April 11: Police disperse holdouts as legislature gets back to business
Locations of the Zhongzheng First Precinct building (left) and the Legislative Yuan (right):