Maokong Gondola launches Hello Kitty theme on high note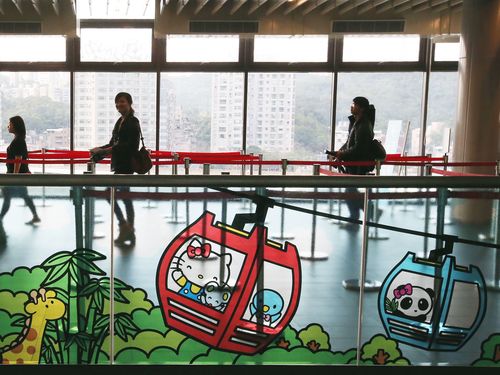 Taipei, Dec. 6 (CNA) Thousands of people queued up for a ride on Maokong Gondola Friday, the day the gondola lift kicked off a year-long campaign that will see popular Japanese cartoon character Hello Kitty-themed designs take off alongside riders.
Enthusiasm for the beloved character helped bring 1,900 riders to the system by noon alone, a 73 percent increase over regular weekday ridership last month.
The figures are welcome news for gondola operator Taipei Rapid Transit Corp. (TRTC) as it has struggled to boost low ridership figures for the past several years.
At the terminal station at Taipei Zoo, crowds of eager guests waited up to an hour in line to catch a ride.
That did not dampen the enthusiasm of excited passengers, however. A woman surnamed Lin, a fan of Hello Kitty since she was a girl, said she took the day off work just to be among the first to ride the newly outfitted system.
TRTC rolled out the Hello Kitty decorations on the gondola's 145 carriages and four stations and released 3,000 limited-edition EasyCards graced by the character's presence.
The company hopes that the cat's charm can help it overcome years of losses on the 4.03-kilometer long line, which has lost NT$360 million (US$12.2 million) due to low ridership and high maintenance costs since it reopened in 2010.
The elevated system has carried passengers up 275 meters to the hills of Maokong, known for its abundance of teahouses, since it opened in 2007, but service was suspended for a year and a half in 2008 after a typhoon caused damage to one of its support pillars.
(By Huang Li-yun and Lee Hsin-Yin)ENDITEM/WH