Microsoft achieves Taiwan talent cultivation goal ahead of schedule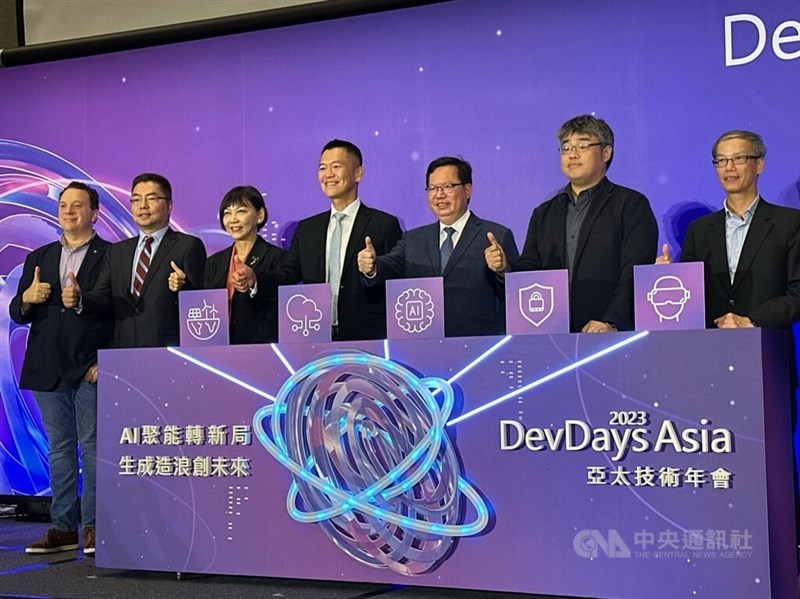 Taipei, Sept. 11 (CNA) U.S.-based tech giant Microsoft Corp. has achieved its digital talent cultivation goal in Taiwan one year ahead of schedule.
At DevDays Asia 2023, an annual technology forum jointly organized by Microsoft and Taiwan's Ministry of Digital Affairs' (MODA) Administration for Digital Industries, Microsoft Taiwan Chief Operating Officer Flora Chen (陳慧蓉) said the company announced in 2020 a plan to train 200,000 digital experts in Taiwan within four years, and achieved that target this year.
Microsoft Taiwan has said the four year talent cultivation program aimed to help the country achieve cross area tech development in industry and allow the company to inject resources into Taiwan to keep up with global tech development trends.
Despite the completion of the program ahead of schedule, Chen said the booming field of artificial intelligence development is expected to allow industries to grow and create more possibilities for the introduction of technologies to enhance production. In response, Microsoft will soon launch an AI technology training plan which is expected to explore the latest AI technologies and help the public learn AI applications.
In 2018, Microsoft set up an AI research and development center in Taiwan.
Speaking at the opening ceremony of this year's DevDays Asia, Microsoft Taiwan General Manager Sean Pien (卞志祥) said the AI R&D center has worked closely with Taiwan's government for years and the company is happy to continue investing in the country, including AI talent cultivation and software and hardware development.
The AI R&D center is a big investment commitment made by Microsoft and one of the company's important projects in Taiwan, Pien said.
AI development is not only about generative AI technologies but also about the importance of launching responsible and moral AI applications, he added.
Generative AI models use machine learning techniques to process and generate data, with ChatGPT as one of the best-known models, which enables users to refine and steer a conversation towards a desired length, format, style, level of detail, and language used. In contrast, moral AI applications refer to the emerging area of AI governance and ensuring how best to roll out applications that obey laws and regulations.
The DevDays Asia forum 2023, which will run through Wednesday in Taipei and open on Friday in Kaohsiung, will focus on generative AI development as well as cybersecurity and digital resilience in the current AI era. In addition, Microsoft will continue with its efforts to train AI specialists in Taiwan and in Asia, Pien added.
Taiwan has entered the AI development era seeking to embed the technology in all industries, while Microsoft's Azure OpenAI service runs on the company's Azure global infrastructure, which seeks to meet users' production needs such as critical enterprise security, compliance and regional availability. Currently, it has provided more than 200 solutions for 12 industries in Taiwan.
Also at the opening ceremony, Deputy Minister of Digital Affairs Lee Huai-jen (李懷仁) said MODA plans to set up an AI production, system evaluating and testing center at the end of this year or early next year.
In addition, the National Science and Technology Council will also evaluate and test the Trustworthy AI Dialog Engine (TAIDE) at a later date, Le said, adding these efforts from the government are expected to help industries make use of responsible and trustworthy AI applications.