Nursing association head honored in Ireland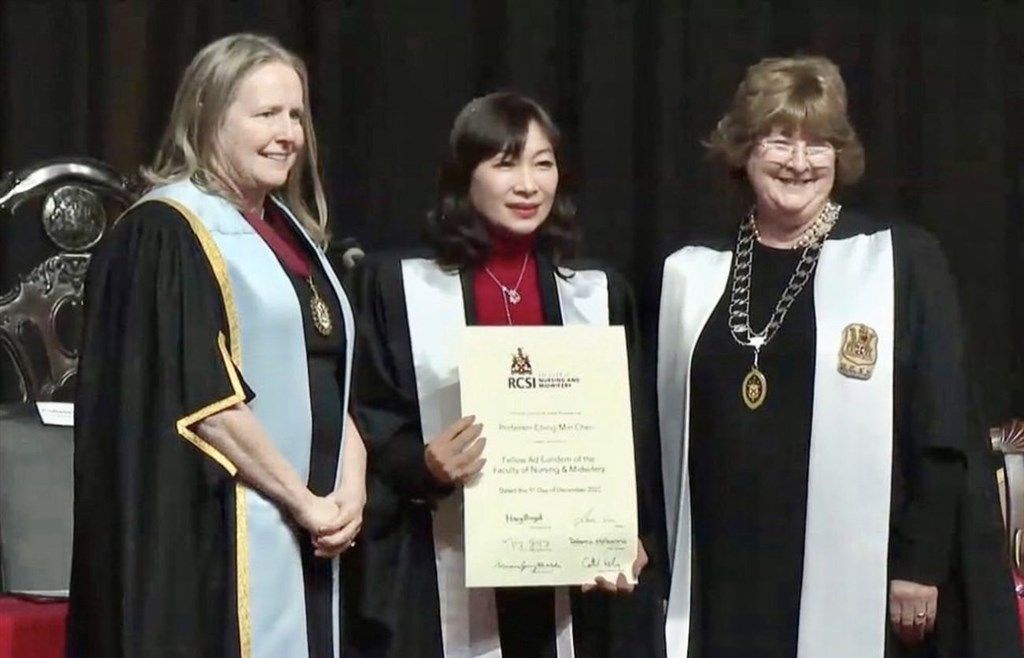 London, Dec. 5 (CNA) Chen Ching-min (陳靜敏), the head of the Taiwan Nurses Association (TWNA), was honored Monday as a new fellow of the nursing faculty at the Royal College of Surgeons in Ireland (RCSI), becoming the first Taiwanese ever to receive the distinction.
Chen, who teaches in National Cheng Kung University's (NCKU) Department of Nursing, was inducted into the RCSI's Fellowship of the Faculty of Nursing and Midwifery for her outstanding service to nursing during Monday's ceremony.
Chen said she looked forward to promoting exchanges and cooperation on public health between NCKU's College of Medicine, the TWNA and the RCSI, according to Taiwan's representative in Ireland, Yang Tzu-pao (楊子葆), who attended the event.
Chen has been dedicated to nursing education in Taiwan since returning from the United States in 1995 after getting a Ph.D. in nursing at Indiana University.
She was recently elected as a board member of the American Academy of Nursing (AAN), becoming the first Asian professional to achieve the milestone in nearly 50 years.
Chen was also an at-large legislator for the Democratic Progressive Party (DPP) from 2018 to 2020, and is expected to take the legislator-at-large seat left vacant by the DPP's Chou Chun-mi (周春米), who was elected Pingtung County magistrate in Taiwan's local government elections on Nov. 26.
The RCSI is a medical professional and educational institution that was established in 1784 as the national body for the surgical branch of medicine in Ireland, with a role in supervision of training.
International Council of Nurses President Pamela Cipriano, World Health Organization Director-General Tedros Adhanom Ghebreyesus, and French chemist and microbiologist Louis Pasteur are among the RCSI's fellows.