Taiwan university conducts successful test of two-stage hybrid rocket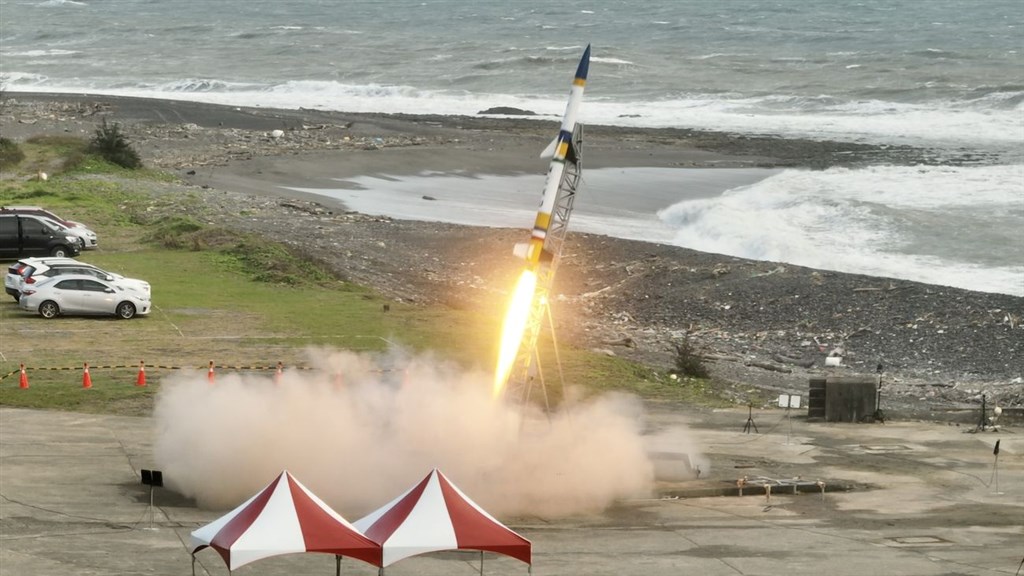 Taipei, Nov. 8 (CNA) Researchers at National Cheng Kung University (NCKU) conducted a successful test flight on Monday in Pingtung County of a two-stage rocket using a hybrid propulsion system developed by them.
The 6.2-meter, 260-kilogram rocket was launched at a National Space Organization (NSPO) test site in Pingtung's Mudan Township at 6:47 a.m., the National Science and Technology Council (NSTC) said in a press release.
The launch tested the rocket's hybrid propulsion system, which used a mix of liquid and solid-state propellants, the NSTC said.
Under the initial flight plan, a 1,500 kg-force (kgf) of thrust was achieved in the liftoff phase, which propelled the rocket into the sky for 13 seconds before a 300 kgf thrust booster kicked in during the separation phase.
However, the propulsion time and the accomplished altitude are to be determined after a review of the results by NCKU, the science council said.
The test represented the first launch of a hybrid rocket by a Taiwanese academic institution that utilized a two-stage thrust of 1500 kgf and 300 kgf, it explained.
It is hoped that the Tainan-based university's hybrid rocket will be designed to carry payloads for scientific research in the near future, the National Space Organization (NSPO) said.
Chao Yi-chin (趙怡欽), chair professor of NCKU's Department of Aeronautics and Astronautics, said the propulsion system was based on the school's 1,500 kgf thrust technology developed in 2019 but had been further refined after three years of research.
The key components and instruments used to make this rocket, regardless of design, technology, and manufacturing, were sourced entirely in Taiwan, Chao said.
The rocket, meanwhile, also came with a built-in Compact Scintillator Array Detector (ComSAD) developed by Yang Yi (楊毅), an associate professor at NCKU's Department of Physics.
ComSAD is a high-energy cosmic ray detector used in sounding rockets and cube satellites to detect the energy and direction of cosmic rays.
The sounding rocket launch on Tuesday was carried out also to test the basic functions of NCKU's ComSAD as the basis for future missions, the NSTC said.