Tsai awards 9 startups chosen to promote Taiwan as 'startup island'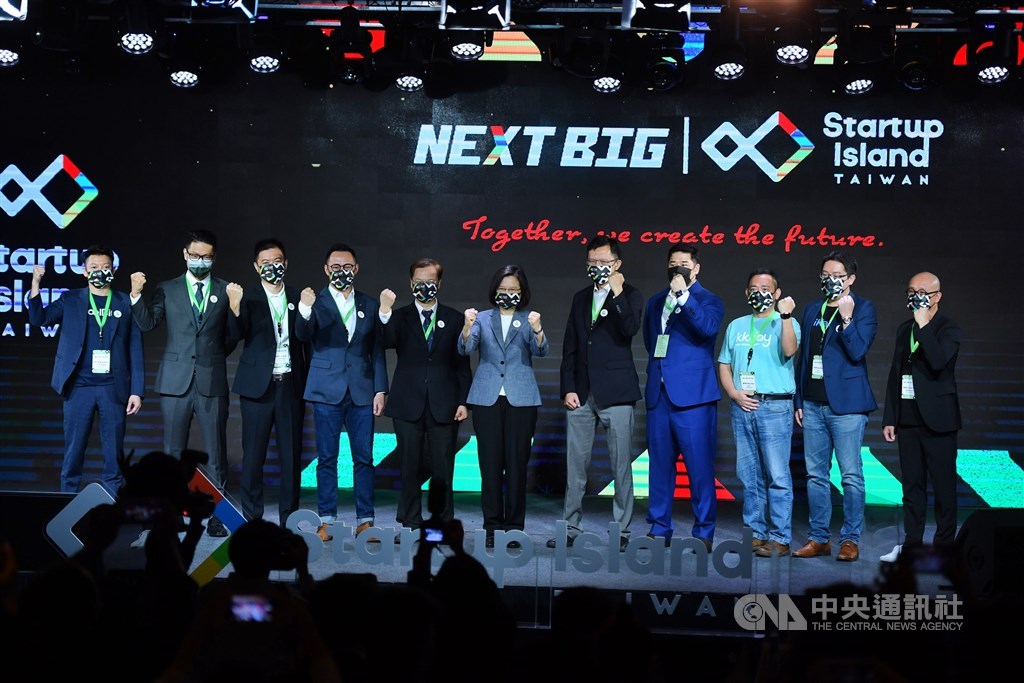 Taipei, Oct. 19 (CNA) Taiwan President Tsai Ing-wen (蔡英文) on Tuesday honored nine benchmark startup companies which have been selected to promote Taiwanese startups on the international stage.
The nine startups were chosen as the "NEXT BIG" representatives of "Startup Island TAIWAN," a national brand backed by the Cabinet-level National Development Council to showcase the country's startups and help them expand to global markets.
During the award presentation ceremony in Taipei, Tsai said the nine startups, which include electric smart scooter maker Gogoro and live streaming platform 17Live, are not only leaders in the startup community but also help lead Taiwan's connections with the world.
"In the latest International Institute for Management Development World Digital Competitive rankings this year, Taiwan improved to eighth place, which is the first time the country has appeared in the top 10," Tsai said.
The president was referring to the 2021 IMD World Digital Competitive report released last month in which Taiwan advanced three places from last year to eighth after improving in all three indicators on the report: Knowledge, Technology and Future Readiness.
"For Taiwan to achieve such a result is, on one hand, due to the country's comprehensive industrial strategic blueprint. On the other hand, it also requires the best entrepreneurs to open up more possibilities for Taiwan's new ventures," Tsai said.
She presented the representatives of the awarded startups with trophies in the shape of a cartoon ram, playing on the Mandarin pronunciation of "the ram that leads the flock."
Gogoro founder and CEO Horace Luke (陸學森) said he was honored to represent his company in receiving one of the most innovative company awards in Taiwan.
"Technology has changed the way we learn, the way we work, the way we communicate, the way we entertain ourselves, and the most important thing, it changed the way we live. Taiwan has led and benefited from this transformation," he said.
Meanwhile, 17Live CEO for Taiwan and Southeast Asia Alex Lien (練建麟) said he was very thankful that his company had been selected to showcase Taiwan's soft power.
The other startups that were awarded at the ceremony were blockchain security technology company CoolBitX, skincare brand Greenvines, AI solution company iKala, cloud solution provider Kdan Mobile, travel platform KKday, e-commerce platform Pinkoi, and retail cloud service provider 91APP.