Chiang Kai-shek among leaders who sent message to the moon in 1969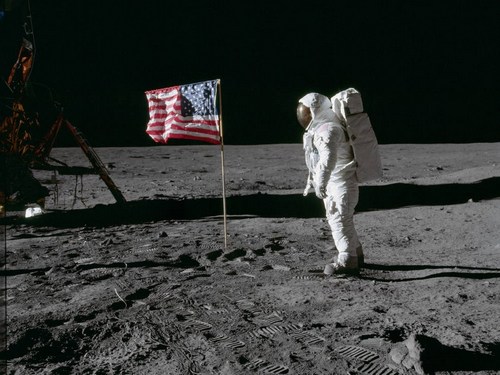 Washington, July 20 (CNA) The late President Chiang Kai-shek (蔣介石) of the Republic of China (Taiwan) was one of the many world leaders who sent messages on the U.S. spacecraft Apollo 11 that made the historic moon landing on July 20, 1969.
On the 50th anniversary of the moon landing, the United States has been highlighting aspects of the mission that propelled American astronauts Neil Armstrong and Buzz Aldrin into history as the first men to set foot on the lunar surface.
When they landed, the astronauts left several items on the Moon, including a silicon disc about the size of a U.S. half dollar. Inscribed on the disc in microscopic text were goodwill messages from the leaders of 73 nations, which were solicited by the U.S. National Aeronautics and Space Administration (NASA).
According to NASA, the disc carried messages from four U.S. presidents -- Dwight Eisenhower, John Kennedy, Lyndon Johnson and Richard Nixon -- and also one from then-ROC President Chiang.
"It is our sincere desire that the astronauts, upon the date of their landing on the moon, will have made a significant contribution to a world utopia and peace through the universe," Chiang said in the message, which NASA translated from Chinese to English.
In July 1970, Chunghwa Post in Taiwan published a set of three stamps, including one featuring Chiang's message in Chinese, to commemorate the moon landing.