Taiwan first in Asia to have real-time bikeshare info on Google Maps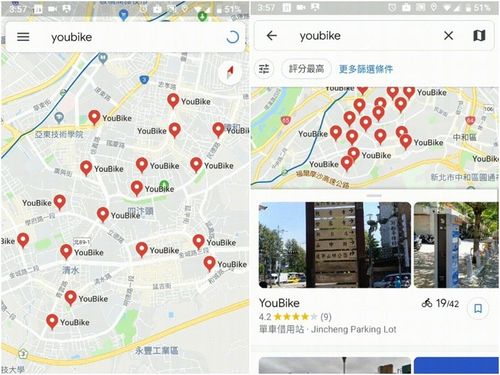 Taipei, July 17 (CNA) Google Maps has rolled out a new feature -- real-time bikeshare information -- covering 24 cities in 16 countries around the world, including New Taipei and Kaohsiung, making Taiwan the only country in Asia to enjoy the service.
Google Maps software engineer Andrew Hyatt introduced the new function in an article published on Google's official blog Tuesday. He wrote that bikesharing is booming, as it transforms how people get from A to B in cities around the planet.
"With an estimated 1,600 bikeshare systems and more than 18 million shared bikes in urban centers worldwide, bikesharing has gone mainstream," Hyatt said.
He noted that over the past year, travelers and commuters in New York have been using Google Maps to both locate bikesharing stations and see exactly how many bikes are available at a station in real-time.
"Today, we're rolling out this feature to a total of 24 cities in 16 countries," Hyatt said. "From New Taipei to Toronto, you can now use Google Maps to locate bikeshare stations and pinpoint how many bikes are available near you."
With the new function, users can also find out whether there are empty spaces at nearby stations where they can leave their bikes.
Apart from the two Taiwanese cities, others in which the new Google Maps function is available include Barcelona, Berlin, Brussels, Budapest, Chicago, Dublin, Hamburg, Helsinki, London, Los Angeles, Lyon, Madrid, Mexico City, Montreal, New York City, Rio de Janeiro, San Francisco Bay Area, São Paulo, Toronto, Vienna, Warsaw and Zurich.