Volcanoes in northern Taiwan proven active: researcher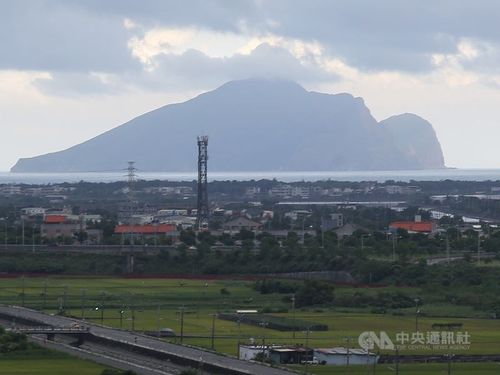 Taipei, May 30 (CNA) Tatun Volcanoes in Taipei City and the volcanic island of Guishan off Yilan County have both been revealed to be active, after a long-term study, according to an Academia Sinica researcher Wednesday.
The study was conducted by researcher Lin Cheng-hung (林正洪) and his team, after setting up the Taiwan Volcano Observatory-Tatun (TVO-T), a monitoring and research facility for volcanic activity in Taipei's Yangmingshan National Park, in 2011.
During a press conference, Lin said that for a volcano to be classified as active it must have erupted within the past 10,000 years and have a magma reservoir underneath it.
A key property of S-waves, one of the two main types of elastic body waves in seismology, is that they are unable to penetrate liquid magma, Lin said, adding that data from the vicinity of Guishan Island showed S-wave shadows and strong S-wave reflections, suggesting the location of a possible magma reservoir in the area.
Magma was found in the central crust of Guishan Island, which proves conclusively that the island is an active volcano, Lin said.
Although academic work in 2016 indicated a volcanic eruption on Guishan Island thousands of years ago, there has been little follow up discussion, Lin added.
During the press conference, Lin also observed that even though the island is separated from Yilan by the sea, if there was a volcanic eruption it could cause a small-scale tsunami that would impact the county if the island were to collapse.
"A tsunami of five-meters in height would cover approximately half of the Yilan Plain with water," Lin said.
However, Lin said there is little to be worried about because the TVO-T has installed various detection devices to provide early warnings.
Giving the example of the Tatun Volcanoes, a group of volcanoes located 15 km north of Taipei City in northern Taiwan, Lin said monitoring in the area has shown interesting phenomena over the past three years.
On average, a seismic event occurs ever 18 minutes, with the cycle repeated over tens of hours, Lin noted, explaining that it is the first time in the world a volcanic "pulse" has been detected from a supposedly "dormant" volcano.
About 150 earthquakes are detected in the Tatun Volcanoes every month, with a pulse observed only three times, each time for one to two days, during which time the pulse was detected 70-80 times a day, Lin said.
If the number of earthquakes increased to thousands or tens of thousands, the temperature of the Earth's surface would rise and gas concentrations suddenly increase, all abnormalities that precede volcanic activity, Lin said.
Such observations can be used to provide warnings two weeks or even one to two months before volcanic activity, he noted.
As no volcanic eruptions have been recorded in Taiwan's history, people have little knowledge about such phenomena, Lin said, adding that although volcanoes pose a threat, they also provide geothermal heat and hot springs.
Human beings must learn to coexist with volcanoes, he noted.
Meanwhile, the National Science and Technology Center for Disaster Reduction (NSTCDR) said that volcanic disasters are listed in the country's act for disaster prevention and protection.
However, relevant units and academics are still studying under what circumstances warnings should be issued and how, NSTCDR said, adding that volcanic monitoring systems are not diverse and do not point to a single indicator, which makes them more complicated than earthquakes or typhoons.
With volcanic eruptions a major event, it is hoped that in addition to using the popular social communications app LINE to send warnings, a national-level system can be established to send text message warnings to alert the public, NSTCDR pointed out.