COMPUTEX: Intel unveils IoT solutions with Taiwanese partners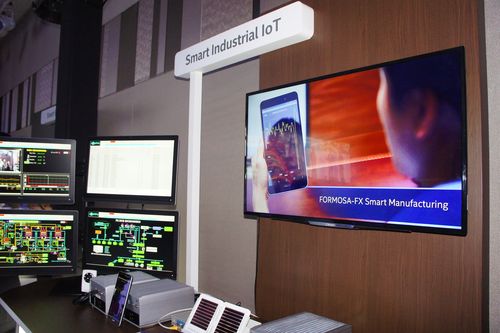 Taipei, June 3 (CNA) Intel Corp. announced five new Internet of Things (IoT) pilot projects and developments with its Taiwanese partners Wednesday, showing momentum for IoT adoption for what it describes as a "transformation of business and better life experience."
The world's largest chip maker hosted an IoT-themed press conference at the ongoing Computex Taipei trade show to announce the results and future expansion plans to make IoT -- the concept of connecting household devices to the Internet -- a reality in Asia and elsewhere in the world.
"The IoT is a fast-growing market that presents tremendous opportunities for Intel," said Jason Chen (陳立生), vice president of Intel sales and marketing group and country manager of Intel Taiwan.
"Our 35-year history and strong collaboration with the IoT system in Taiwan is a critical success factor in our ability to scale IoT, enable business transformation and enhance the IoT experience," Chen said at the press conference.
The press event featured IoT applications developed jointly with Intel's partners in Taiwan for buildings, cities, factories, healthcare, manufacturing, retail, agriculture, education and home solutions.
The demonstrations included a smart manufacturing solution developed in conjunction with Formosa Plastics Corp. (FPC, 台塑) that enables forecasting and monitoring of manufacturing interruptions.
The initial deployment of the smart manufacturing solution will be completed by October this year and then introduced to other FPC factories in Taiwan and elsewhere in the world, Intel said.
Intel also announced a smart factory solution with Fusheng Co. (復盛), one of the world's top five air compressor manufacturers, that allows Fusheng to predict and detect maintenance needs and manage its vehicle dispatches.
Other IoT demonstrations on display included smart home solutions developed with Elitegroup Computer Systems Co. (ECS, 精英電腦), a smart building solution with Tatung Co. (大同), and a collaborative plan with Advantech Co. (研華科技) and Microprogram Co. (微城市資訊) to roll out Taipei's popular YouBike smart city bike system to more cities in Taiwan and other countries in Asia.
Moreover, Intel has been working with Chunghwa Telecom Co. (中華電信), Taiwan's largest wireless carrier, to establish IoT solutions for smart cities in the country.
The smart city solution uses Intel's IoT gateway on a smart city system to connect sensors located on streetlights or electricity poles, which can manage the data collected for air quality, weather, traffic and power consumption, Intel said.
(By Jeffrey Wu) ENDITEM/J