Sony launches LTE phone on Taiwan's 700 MHz spectrum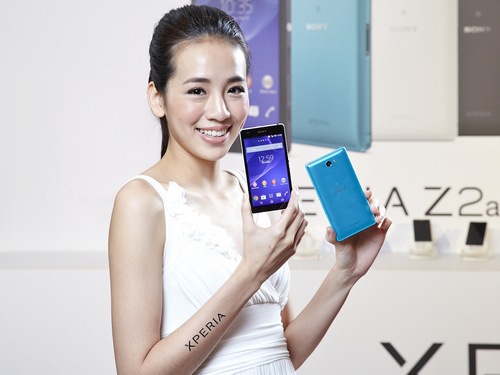 Taipei, June 10 (CNA) Japan's Sony Mobile Communications launched its first handset supporting the new 700 MHz frequency band in Taiwan Tuesday, in a bid to narrow the gap with its rivals in the country's 4G Long-Term Evolution (LTE) market.
The Sony Xperia Z2a sports a 5-inch 1080p full-HD display, a Qualcomm Snapdragon 2.3 GHz quad-core processor, a 20.7-megapixel rear camera, 3GB of RAM, 16GB of internal memory, a 3,000 mAh battery and full support of Taiwan's LTE bands.
Sony also launched another new 4G smartphone that same day -- the Xperia T3, a 5.3-inch mid-range model that supports only 900 MHz and 1800 MHz frequency bands on Taiwan's current LTE network.
The company said both the Z2a and T3 will go on sale in July, but did not reveal the pricing of the two devices.
The Japanese handset maker has so far released seven 4G smartphones for the Taiwan market and plans to launch more 4G models supporting the full LTE frequency bands in the second half of 2014, said Jonathan Lin, general manager of Sony Mobile's Taiwan branch.
"Our new mid-tier and high-end phones to be launched in the second half of this year will start supporting the full LTE bands, and our low-end models will support the full LTE bands starting next year," Lin said at the launch of the Z2a and the T3.
In comparison, South Korea's Samsung Electronics Co. has launched four full-spectrum LTE smartphones of its Galaxy series in Taiwan, including the S5, Note 3, Note 3 Neo and Core Lite.
Taiwan-based HTC Corp. has also released three full-spectrum LTE phones for its home market, ranging from the flagship One M8 to the mid-tier Desire 816 and the Desire 610.
Chunghwa Telecom Co., Taiwan's largest mobile provider, has the licenses to launch LTE network on the 900 MHz and 1800 MHz bands, while smaller carriers Taiwan Mobile Co. and Far EasTone Telecommunications Co. both have licenses to operate LTE networks on the 700 MHz and 1800 MHz bands.
(By Jeffrey Wu)ENDITEM/J