HTC One wins best smartphone award at MWC 2014 (update)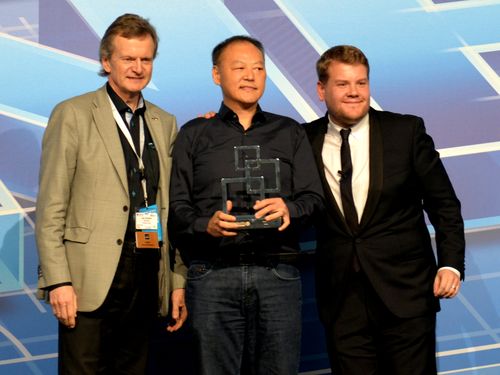 Taipei, Feb. 25 (CNA) Taiwan-based HTC Corp.'s flagship device, the HTC One, was named Tuesday the "Best Smartphone of the Year" by GSM Association (GSMA) -- a top award in the global mobile communications industry.
HTC was awarded the prize at the Mobile World Congress (MWC) trade show in Barcelona, Spain, defeating other nominees from big brand names including Apple iPhone 5S, LG G2, Nokia Lumia 1020 and Samsung Galaxy Note 3.
The HTC One was also named the winner of the "Best New Mobile Handset, Device or Tablet" at the Mobile World Congress 2013.
Launched in February 2013 in London and New York, the HTC One sports a 4.7-inch display with full-HD resolution of 1920 x 1080 pixels, a 1.7-gigahertz quad-core processor and a new "UltraPixel" camera that enables ultra-sharp photo shooting and video recording, according to the Taiwanese company.
"We're incredibly proud that the HTC One continues to be recognized as a game-changing smartphone, with its sleek design, superior audio and impressive functionality," Peter Chou, chief executive officer of HTC, said in a statement.
"Winning yet another international award for the HTC One proves that the device has taken the mobile experience to a new level and continues to set HTC apart from the competition. We're looking forward to building on this success with more incredible innovation planned for the coming months," he said.
The Global Mobile Awards 2014 were voted by a panel of more than 175 independent industry experts, drawn from the media and analyst communities.
The awards consist of six major categories, and the "Best Smartphone" is one of the five entries under the category of "Best Mobile Handsets and Devices."
(By Jeffrey Wu) ENDITEM/sc
Mobile World Congress 2014:●HTC issues warning to Samsung phone buyers of possible remorse●HTC unveils mid-range Desire phones, supercomputer initiative●Sony introduces new smartphone in Spain, Taiwan●Samsung's first 4G phone using 700 MHz to hit Taiwan in Q2●MediaTek reveals 64-bit LTE chip at 'mainstream price'●LG said to sell new G Pro 2 phablet in Taiwan in April●Acer debuts Liquid E3, Z4 phones ahead of Mobile World Congress