ELECTION 2024
/
KMT's Hou proposes stiffer penalties for fraud related crimes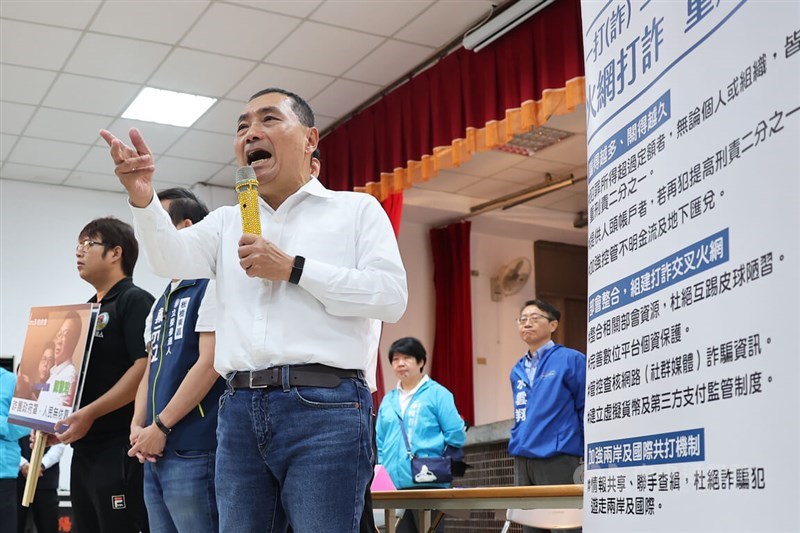 Taipei, Nov. 21 (CNA) Opposition Kuomintang (KMT) presidential candidate Hou Yu-ih (侯友宜) pledged Tuesday to introduce stricter laws to crack down on fraud and enhance both inter-agency and cross-border cooperation to make such efforts more effective.
The ruling Democratic Progressive Party (DPP) has done a poor job dealing with fraud cases despite having spent NT$2.7 billion (US$86.1 million) since last year to boost manpower and technological capabilities to address the issue, Hou said at a press conference.
Nearly 30,000 fraud cases had been reported to police during the first nine months of 2023 -- up 25 percent year-on-year -- he said, suggesting current punishments provide an insufficient deterrent which explains the particularly high recidivism rate.
As a result, the current law should be amended so fraud above a certain level automatically increases the penalty by half, regardless of whether the criminal activities are committed by individuals or criminal organizations, Hou said.
Hou also pledged to increase penalties by half for those who repeatedly assist in such crimes by allowing criminals to use their accounts as a way of avoiding detection, as well as to tighten control over unidentified financial flows and underground transactions, to prevent fraud and money laundering at the source.
"The more you cheat, the longer you'll go to jail," Hou said, adding that related penalties in Taiwan are lighter than neighboring countries such as Japan and South Korea.
In Taiwan, 70 percent of sentences for fraud are below two years, while less than 10 percent are above three years, he explained.
If elected, Hou said, his government would facilitate inter-agency cooperation between the Ministry of the Interior, Ministry of Justice, Ministry of Digital Affairs, and Financial Supervisory Commission to target ever-evolving fraud schemes.
Meanwhile, given that fraud crimes are becoming increasingly organized and transnational, it requires closer international cooperation, he said, stressing that he would seek to breathe new life into the Cross-Strait Joint Crime-Fighting and Judicial Mutual Assistance Agreement between Taiwan and China, which has been in limbo due to bilateral tensions.
View All